Adult Birthday Party Ideas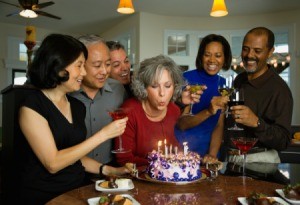 A kiddie party! Great for goofy-fun loving high school or college kids, or people turning "age milestones" like 30, 40, or 50. Fairly inexpensive and fun.
It's a costume part of sorts. People have to come dressed as little kids. Maybe even make it more fun and suggest an era, the time when the person WAS a little kid, like the 70's or 80's.
You can do to the Dollar store and buy little trinkets and kiddie games, and play things like Musical Chairs, Pin-The-Tail-On-The-Donkey,Tag, Hide and Seek or other kid games.
The person throwing the party can decorate with colorful streamers; rainbows or pink and purple for girls/women, khaki green, black, red, blue, that kind of thing for boys/men. They can hand out little goodie bags with cheap toys and little games.
And of course cake and ice cream! And maybe lollipops.
Old toys and the like cleaned up and in good repair (Or cheap dollar store toys like squirt guns and other fun things) can be used for prizes for the games!
Any toys the people don't want to keep for nostalgia (or heck, to play with) can be given to neighbor kids, nephews, and the like. Or to Goodwill or other organizations, like Toys for Tots and Project Santa.
Source: I actually got the basic idea from an Archie digest comic where the characters have just such a party. XD
By Saber Alexander from Omaha, NE
Read More

Comments
9 Questions
Ask a QuestionHere are the questions asked by community members. Read on to see the answers provided by the ThriftyFun community or ask a new question.

I need suggestions for plan a surprise party for my mother. She is turning 53 this year. What theme should I do?

Ishael from Roselle, IL

Answers
By Ann (Guest Post)
March 26, 2008
0

found this helpful
One of the best ways to get her to the party is to send her a fake invitation to a surprise party for a friend of hers. First let the friend in on it! When she gets the invitation in the mail, she will want to go, and she won't wonder why there are cars parked all around.
As far as themes go, how about the good old fashioned balloons and streamers? It always works for me! Good Luck!

Julie
Bronze Feedback Medal for All Time! 149 Feedbacks
March 26, 2008
0

found this helpful
think back on any time she went somewhere or with someone to a special place or event that she really enjoyed and talked about that was very memrable for her then see if you can recreate that theme. maybe she went on a cruise once so a tropical theme would bring back those memories etc. if you know her favorite color and type flower or music draw from that for your theme.
By Christina (Guest Post)
March 26, 2008
0

found this helpful
If she didn't have to work, money was no object and she had no responsibilities for children, parents, spouse, where would she live? That should be your decor and music. Then base the rest of the party on her interests or hobbies.
You might play games or produce a this-is-your-life story. Enlist friends to dress up as her favorite celebrities and put on skits. Try to have it someplace that she really likes to go.

Marty Dick
Bronze Post Medal for All Time! 169 Posts
March 26, 2008
0

found this helpful
How about "her" kind of music from school and dating times? Encourage everyone to wear clothing from the time frame. There are vinatage stores with just about every era covered. When you send her invitation to the friend's party it can say dress for whatever year and bring along an LP or whatever she played as a high schooler.
* LP = long play record.. the large vinyl thingies with 5 or 6 songs on each side.
By (Guest Post)
March 27, 2008
0

found this helpful
Throw a tea party/mad hatter party! Or a pink party! (Think *almost* Red Hat Society.)
My mom is around that age, and I think if I were throwing her a surprise party, I'd make sure all my siblings were there, we weren't fighting, and we did something crazy or silly. Like a mad hatter tea party. With all the costume jewelry we could find from her mother's old jewelry box.
:-) Have fun!

March 27, 2008
0

found this helpful
Borrow a record player and records from the 60s! I have a record player and records lol - im from Streamwood but i live in Indiana now - if you know someone whos still got a record player, that would be really cool!
also, the best surprise parties ive ever thrown or went to were held a day or 2 later when theyre least expecting it! just make sure shes got a good heart - cuz it scares the hell out of the person! :)

March 27, 2008
0

found this helpful
You could have a party for her "and" a celebrity (in absentia of course) who was born the same year. Some include Reba McIntyre, Whoopie Goldberg, Bill Gates, Kevin Costner, and Bruce Willis.
By JC (Guest Post)
March 27, 2008
0

found this helpful
Don't forget she will want to remember this party for the rest of her life. Take photos or her and each guest or family, with a digital camera and have a printer handy. Print the photos and put them in a scrapbook allowing the person who is in the photo with her to add in their own hand writing a story about a time they spent with Mom - or a happening they enjoyed together. At the end of the party she will have a keepsake to look at often and will enjoy the party over and over.
You can also go to a web site and get facts and happenings from the year she was born for games or posters or even invitations.
Answer

this Question

I'm turning 21 in January '08. It's the huge birthday to celebrate in England. Anyway I've always said I wanted a 'Princess Ball' for my party and all my friends love it. I'm thinking pinkness, formal wear, tiaras, red carpets, champagne etc.
Its a childhood dream and 21 is where you turn into an 'adult' so to speak and I want to go out living 1 last childhood dream! I just wondered if you had any ideas to make it more memorable (decorations, etc.). Thanks so much for your help guys!
Kimberley from UK
Answers
By Debbie (Guest Post)
September 5, 2008
0

found this helpful
I think your "Princess Party" is a great idea. You could buy large bolts of cheap red fabric and tape it to the floor/steps with double side tape. Also a resale shop/ Craig's List/Ebay are good places for cheap formal dresses. Also maybe a music school could provide music for dancing at a cheaper price. Go for it....You only turn 21 once.

Cyinda
Bronze Post Medal for All Time! 213 Posts
September 5, 2008
0

found this helpful
It would be super-cool if you could find (or make) some "magic" wands that light up with either LEDs or those glow sticks.... (like star shaped magic-fairy-princess wands)
HERE'S SOME WEBSITES THAT SELL LED PARTY SUPPLIES:
www.flashingblinkylights.com/
www.global-b2b-network.com/.../
*These web sites are TOTALLY AWESOME & you'll get a BIG kick out of them! ...I like the way you can buy things in bulk.

September 5, 2008
0

found this helpful
Silver goes well with pink. I don't know how christmas is celebrated in England, but if there are sparklie decorations on sale for the holidays, they could work...also, if you are near a city with bulk or wholesale fabric, you might find lame' or silver net or pink fancy fabric for not as much as in a regular retail store...same for flowers--a floral distributor would have better prices than your neighborhood shop. Ask friends and relatives if they have any fancies set back in the attic.
By Sue (Guest Post)
September 5, 2008
0

found this helpful
Oh this sounds wonderful.
Rental shops here in Canada rent Arbours with tulle (fancy netting) all through them for weddings. That would be pretty.
Myself and a couple of other ladies were in charge of a Women's group at our church, and once we had a Cinderella theme evening. It was so fun. Some came as Cinderella, some the ugly step sisters, one came as a pumpkin, one dressed as the Princes shoe helper with a velvet pillow and a pretty shoe. And of course we all had to try on the slipper. It was a hoot.
There is also a fun Rindercella story - some of the words are said backwards. I would love to hear how it turns out :)

Coreen Hart
Bronze Feedback Medal for All Time! 153 Feedbacks
September 6, 2008
0

found this helpful
Have manicure stations! Do each other's nails (hands or feet). Unless you invite men as well. Not sure how that would go over.

Coreen Hart
Bronze Feedback Medal for All Time! 153 Feedbacks
September 6, 2008
0

found this helpful
If you're having couples, get a male friend with a loud, great voice to announce the guests at the door as they arrive. Put him in a red velvet jacket. Powdered wig optional. :-)
By (Guest Post)
September 6, 2008
0

found this helpful
I just have to wish you a happy birthday because January 8th is also MY birthday. One famous person who was born on January 8th was a king -- Elvis Presley, the King of Rock 'n Roll! His favorite colors were pink and grey, so maybe you could incorporate those into your Princess Ball theme.
Beverly in California, USA
Answer

this Question
I am turning 58 on June 27 and would like to plan something that would cost under $100.
By Phyllis

Read More

Answers

I need a cheap event space for an adult birthday party that allows outside food and beverages, preferably under $200. Any suggestions?
By mmg from Atlanta, GA

Read More

Answers

I will be having my first dinner for my 47th birthday next month. I want any ideas that are frugal and from a dollar store.
I want to spend as little money as possible since it's only one day. Thanks.
Read More

Answers

I'm turning 45 and I want to know what I can do. I would like to have a party, but I want a theme, something fun to do.
By anshauntae

Read More

Answers

Looking for ideas for a 10-10-10 birthday party. Any ideas for activities? It is an adult birthday, family event with fun for all ages. All suggestions considered.
By Denese from Woodbine, GA
Read More

Answers
My volleyball coach, who is an awesome person, is single, and is turning 30. A friend of mine is really serious about hosting some type of party for our coach because she's just that special. We have no idea what to do. She loves volleyball, country music, laughing and all sorts of things.
We would like for it to be fun not too sentimental, that's the job for the gifts. We want her to have fun and make it a memorable birthday. I would love it if anybody had any suggestions that fit her personality or any at all. Thanks!
Andrea
Answers
By JW (Guest Post)
July 6, 2005
0

found this helpful
One of my friends was a soccer fanatic, and his family made him a soccer ball cake using a pyrex bowl rather than a regular cake pan. You could simulate a volleyball with white frosting and then color the lines and words with foodcoloring mixed into some frosting you reserved--or use licorice string? For cheap way to decorate: Put into a small ziplock sandwich baggie and then cut a fairly small tip. You can use this or a frosting kit--(some at grocery stores are disposables but can be washed and used again and again and are very cheap)--to pipe the lines of the ball as well as a birthday message or whatever over the cake. I myself am using the pyrex bowl method to make a volcano cake for my little girl's upcoming luau birthday party. I found this recipe tonight, coincidentally, and it recommends the bowl cake and trimming the cake around its base to give it the appearance of a ball. Check it out; it can easily be used for a soccer ball.
Soccer Ball Cake
from Womans Day Magazine
Neat way way to make a ball shaped cake.
Perfect for birthday parties.
4 cups any flavor cake batter
3 cups white colored frosting
1 (8 ounce) package black licorice whips
3/4 cup black colored white sugar
Directions:
1 Heat oven to 350 degrees F (175 degrees C).
Grease and flour one 2 1/2 to 3 quart
ovenproof bowl.
2 Pour prepared cake batter into the prepared
bowl and bake for 1 hour and 15 minutes. Let
cake cool for 15 minutes in the bowl then
invert and let cake cool completely.
3 Once cake is completely cool trim flat side
of cake and place on a cake board. Trim edges
into a ball shape. Frost with the white
frosting. Next using a toothpick draw a
pentagon in the center top of the cake.
Surround the pentagon with five hexagons.
Repeating to cover entire cake. Cover lines
with black licorice cut into 1 1/2 inch
pieces. Fill the pentagon shapes with
black colored white sugar.
Makes 1 - 2 1/2 to 3 quart bowl
Answer

this Question
Published by ThriftyFun.
© 1997-2022 by Cumuli, Inc. All Rights Reserved.
https://www.thriftyfun.com/Adult-Birthday-Party-Ideas-1.html