May 12, 2020
0

found this helpful
Best Answer
Noritake has a long history and in many cases it gets confusing but I have studied Noritake for several years as my brother was stationed in Japan for a number of years and sent home boxes and boxes of Noritake. A lot of this was never exported so some of the marks are not exactly like any I have found on any of the Noritake 'history' sites.
A lot of Noritake was sold in US at "5 & 10 cent" stores.
This is a statement posted on one site:
"According to collectors, the number of known different Noritake marks are today more then 400. There is no record of how many unknown marks exist."
I'm only stating this to let you know the markings on your set may not be shown in any actual date line.
The following is some information that I've gathered in relation to your set.
1.) Your stamp has 'Hand Painted Japan (not Made in Japan)
"Noritake China 1930
HANDPAINTED JAPAN For export, First use of Noritake China with letter M.
2.) The "M in a wreath" mark was used between c 1914 until 1940.
Large, gold M encircled by a wreath. This M stood for their namesake, Morimura, and was used until World War II. (1940)
3.) "Most back stamps after 1921 state "Japan" or "Made in Japan". From the early 1920 and probably until 1940 most if not all US market patterns were designed in New York. Marks with US Design Patent Pending probably dates to this period, to whatever effect it might have had to stop other Japanese companies from coping the modern and successful Noritake designs. Date of this mark: probably c. 1930."
4.)
Circa 1930
Gold Mark - HANDPAINTED JAPAN
Export to (High End Market Only Australia) and the USA Markets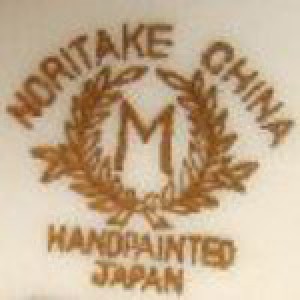 May 12, 2020
0

found this helpful
There are a large variety of stamps for this China but in your case the mark on the back of your China was used from 1911 until WW 2. The stamps vary but what they have in common is the M encircled by a wreath. The M stood for their namesake, Morimura. They had some of these stamps in different colors but the Large M in the middle of the wreaths was what made this stamp stand out. I can not give you an exact date this China was made but I can give you the period they used this stamp on the back of yours.
May 13, 2020
0

found this helpful
Thank you!
May 12, 2020
0

found this helpful
wow, what a marvelous set of historic artifacts! And they all look in pristine condition. Are you thinking of selling them, or do you just want to know what they're valued at?
It looks like it would date from the 1910's thru 1930s, so already an antique. Guaranteed. It would be interesting to know whether it's a complete set or not.
May 13, 2020
0

found this helpful
Thank you. It is in mint condition and Im not sure really how often it was used. Im just curious in the history of it because I cant find any info. I have 12 sets worth of the following; dinner plates, square salad, round salad, bread and butter plates, footed coffee cup and sauces, Footed soup bowls and saucers, fruit/dessert bowls. Then 2 of the 13in oval platter, a 16in oval platter, 1 of the coveted veggie bowls, 2 oval bowls, a gravy boat with attached saucer, a creamer dish and a sugar holder.
May 14, 2020
0

found this helpful
I'm not really sure what type of information you're looking for as all of the information supplied came from history archives and clearly shows this is probably from c. 1930 and I do not believe you will be able to pinpoint it any closer.
Since you only state it was your great grandmother's set that does not give us any type of date to go by. The patent pending shows it was for the US and Noritake history shows that a lot of the china patterns were designed in the US.
You do not say how your grandmother came to have this beautiful set so that does not help but most sets like this were purchased in the US - usually New York - (before World War II).
In today's time - I'm not sure that very many people would have room to store such a large set and not many families have room to set a service for 12 so I'm hoping you will have personal use for this set.
I do not believe you will find very much additional 'history' of this set from outside sources so if you desire something more, I think you will have to go to family members who may have information about where and how your great grandmother acquired this set.