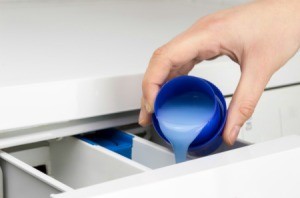 Help! I am allergic and need a perfume/fragrance free laundry detergent preferably for a HE front loaded machine.

I have tried some different ones but none makes my clothes clean. Not even from sweat after using a t-shirt for one day. Tide HE Liquid Free ruined and faded all the colors of my clothes. But still it does not clean the dirt. Nature Clean laundry liquid does not clean good enough. Not even when combined with All Natural Liquid Bleach that contains hydrogen peroxide.
What can I use?
WasherD
Answers

Marty Dick
Bronze Post Medal for All Time! 169 Posts
August 8, 2007
0

found this helpful
My husband and I are both allergic to perfumes. We use either All free or Cheer free. I have noticed that Tide now has a Free and Clear product. I haven't tried it.
Hi,
I've read it here and a Sears home service repairman told me you can safely use 1/2 the amount of regular laundry detergent instead of using a He-specific formula.
Also, Costco has a new liquid He detergent that is very mild.
Hope this helps.

August 9, 2007
0

found this helpful
I have a front loader and can't use fragrances either, no matter how "gentle" or "mild". I am using Sunlight, fragrance free HE and it's working for me. If there are stubborn spots, I treat them with a bit of detergent right on the spot or use Shout Gel.
I have used the Nature Clean powder and didn't care much for it. Haven't tried the Tide Free HE yet.
IMO, I wouldn't use the "less regular detergent" route even tho I'm now out of warranty. The HE detergents work well enough for me.
By Ace (Guest Post)
August 10, 2007
0

found this helpful
I've used All Free & Clear Liquid HE in my big front loader for years and have never had any troubles. I bought a huge container of All Free & Clear HE at Sams Wholesale Club. My Sears maintenance man told me to use 1 tablespoon per load. Best to you!

August 10, 2007
0

found this helpful
Hi,
Have you tried the homemade detergent? It's great for high efficiency machines, because it hardly suds up, it works phenomenally well at removing stains and odors, it has been great so far for my friends with sensitive skin and allergies--and I use it on my baby's clothes. There are many recipes, but here's mine:
1/4 plus 1/8 bar of Zote (laundry) soap
3/4 cup borax
3/4 cup washing soda--Arm and Hammer, NOT baking soda. Can be tough to find. I had to call the company--King Soopers carries it here.
I shave the soap (it's very soft) into a pan with 6 cups hot water, then stir until the soap dissolves. Add the borax and washing soda, stir. I use a two gallon bucket (by the way, a bucket that paint balls come in works GREAT!) Add a gallon of water to the bucket, pour in the soap mixture, and stir. Then add enough water to bring the total volume to the two gallon mark, stir again and let set for a day (or overnight). It will gel up. As you use the stuff (1/2 cup per load--maybe less for HE machines) it will weep liquid, but it works great. For really filthy clothes, I will turn on the machine on long enough to get it full of water, and let it agitate for a few minutes to dissolve the detergent. Then I shut it off and let it sit overnight, then restart in the morning. Works great!
This homemade detergent is fantastic stuff, and I figure that I made around 22 gallons for $8.00.
You can clearly see what the ingredients are, there aren't a bunch of perfumes and dyes and abrasive cleaners. You can't beat this with a stick!

susan
Silver Feedback Medal for All Time! 472 Feedbacks
August 11, 2007
0

found this helpful
Just a note if you chose to try making your own laundry detergent (soap): you can use any brand of bar soap--it doesn't have to be fels naptha, zote, or a laundry bar. If you have a particular brand of bar hand/body soap that you like and doesn't cause any reactions, it will work in the recipe.
By (Guest Post)
August 11, 2007
0

found this helpful
I personally think the HE detergents at DOUBLE THE PRICE, are a big hype and I refuse to use them. Even if they are better for your machine. there is NO REASON for them to cost double the money.
By Barb (Guest Post)
August 27, 2007
0

found this helpful
Melaleuca has a natural laundry detergent that I have been using in my Front loader machine with success. Email me if you want more information.
bridgestock @ earthlink.net
By Erica (Guest Post)
September 2, 2007
0

found this helpful
Melaleuca is a very good product. I use it. I will continue to use it. It might be worth your while to check it out.
Answer

this Question