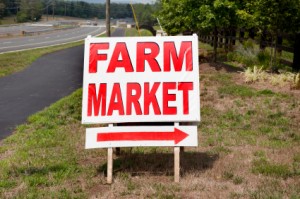 Here are some ideas on alternative places to shop for your groceries. Check your area to see if there are any year-round farmers' markets, and food terminals or "cash and carry" stores that usually sell to restaurants that are open to the public. We have a farmer's market and food terminals ("cash and carry" stores) in my area (near a medium-sized city) that are open all year.
Farmer's Market
In winter, I can usually get winter storage vegetables like apples, potatoes, squash and cabbages, at a very reasonable price from the farmer's market. Of course the items available usually depend on the season, but also, sometimes the vendors at the farmers' market have non-local fruits and vegetables, such as oranges and grapefruits that they have bought at a discount from the nearby food terminals (where all the fruit and vegetables for the area restaurants are trucked into). They then sell these to the public for very low prices. For instance, today at the farmers' market I bought 3 gallons of apple cider for $5, a huge head of cabbage for $1, 4 grapefruits for $1, and 8 oranges for $1.
Cash and Carry
The same items bought in the supermarket would cost at least twice as much money. I also like to frequent the "cash and carry" stores at the food terminals and look for good grocery deals.
Since these stores mainly sell to restaurants (not all of them are open to the public), the quantities of food may be large, and you may have to break up a package and then freeze it into smaller portions. I do this often.
When I purchase a 5 lb. brick of sliced American cheese there the price is much less per pound than at the local grocery store. My best deal recently was the purchase of some high-gluten flour at the cash and carry for about 10 cents a pound; since I have a bread machine and I also bake quite often, this was a great deal for me. So look around -- you may find places to shop that you never thought of before. You don't necessarily have to do all your food shopping at the higher-priced grocery chain stores!
By Ness from Lakeview, NY
Salvage and Warehouse Stores
In my state (Indiana) we have salvage or warehouse stores where I purchase a lot of canned items that are slightly dented. I am also able to buy cleaning products here. The owner of the store buys the merchandise for x dollars a pound. They can resell it for quite a bit below the supermarket price. Aldi's is an international chain of bag your own groceries at a lower price.
By ajdutchtown
If you have any ideas feel free to share them below.