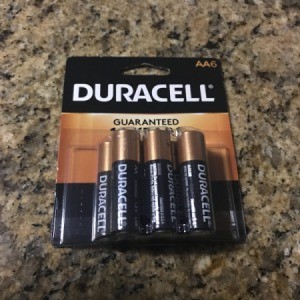 One of my biggest shopping tips is to always price check items. You might be surprised at the price difference at times.
For example, I recently needed to purchase batteries for my wireless mouse. When it comes to batteries, theres quite a selection from different brands, quantity, quality and they're not cheap!
I just grabbed a handful one of each in my basket and headed toward the price check scanner. Just my luck, I was able to score a 6 count of Duracell AA for $1.48, originally $4.99. I actually bought several more to save for other uses especially since Christmas is around the corner. Batteries come handy for kids toys that require batteries.
I was able to save a lot of money! And the tag displayed on the shelf or the item was not marked $1.48. The only way you would have known was if you scanned it, or were purchasing and will be surprised at check out for the low price.
Comparing the other options on the shelf:
4 count was $4.29
10 count was $7.99
20 count was $13.49
But I was able to get 6 count for only $1.48! Amazing deal.