Apple Pie Banana Bread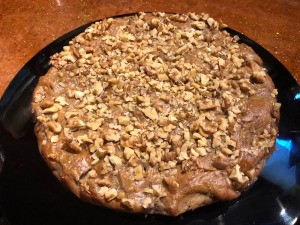 This is a delicious cross between a nutty banana bread and a silky apple pie that contains no eggs. I came up with this because I went away for several days and came back to extra ripe bananas, apples, and a fridge with no eggs. I added the walnuts to the top instead of mixing it in the batter so it was more of a crust layer that added to the apple pie qualities. If you use a nut or coconut milk, this will be vegan. Enjoy!
Prep Time: 10 minutes
Cook Time: 30 minutes
Total Time: 40 minutes
Yield: 8 servings
Ingredients:
3 large ripe bananas
2 Tbsp oil
1/3 cup sugar
1/4 cup milk
1 1/2 cup all-purpose flour
1 tsp baking powder
1/2 tsp baking soda
pinch of salt
2 apples, peeled and cored
2 Tbsp brown sugar
1/2 tsp cinnamon
1/4 tsp nutmeg
1/3 cup chopped walnuts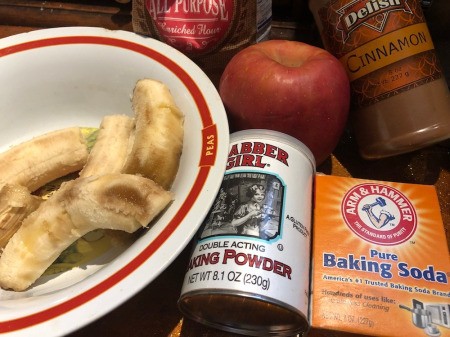 Steps:
Preheat oven to 350 F. Mash bananas and oil together in a large bowl until smooth.
Stir in sugar.
Add milk and mix until there are no streaks.
In another bowl, whisk together flour, baking powder, baking soda, and salt.
Add the dry flour mixture into the banana mixture. If it's too firm a dough, you can add milk by the tablespoon.
Chop the apples so they're a bit chunky for texture.
Add a bit of oil to a pan over high heat. Add apples, brown sugar, cinnamon and nutmeg.
Cook, stirring constantly, just until there is a nice caramel sauce at the bottom of the pan, a couple minutes.
Stir the apples into the banana batter.
Pour into a prepared pan. I used a greased and lined 10" round pan.
Bake in preheated oven for 15 minutes. Remove and press chopped walnuts into the top. Return to bake for another 15 minutes, until toothpick inserted comes out clean.
Allow to cool a bit before removing from pan. Serve warm or chilled; both are excellent!
Add your voice! Click below to comment. ThriftyFun is powered by your wisdom!