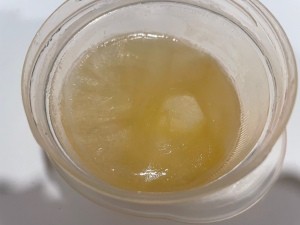 Aquafaba is the liquid canned chickpeas come in. You can also make your own if you cook dried chickpeas. You can use aquafaba from other beans, but chickpeas have the mildest flavor.
1 Tbsp. of aquafaba equals one egg white, 2 Tbsp. equals one egg yolk, and 3 Tbsp. equals one whole egg.
Aquafaba can be used for cooking and baking, with no change in tbe color, texture, smell or taste of the food
It can be refrigerated for a few days or be frozen for months, as seen in the photos. You can freeze it in a container or an ice cube tray. I thaw it in the refrigerator.
It can also be whipped into a meringue, and I am looking forward to trying that.
Aquafaba is great when eggs are expensive, you have run out of eggs, there is an egg allergy or you are vegan.
In these days of supply shortages, I strongly encourage you to try using aquafaba.