This absolutely delicious bread recipe has only four ingredients and is super easy to make. I made it for a get together and everyone loved it so much that they asked me to have a class on it. There's no kneading and no waiting forever!
Ingredients:
It must be done in this order:


3 cups lukewarm water
2 Tbsp. yeast
2 Tbsp. salt
6 cups flour (King Arthur is the best choice)
Directions:
Mix all ingredients together in a large tub/container that has a lid. Let sit overnight to rise. When ready to use, preheat oven to 450 degrees F. Sprinkle flour on top of bread so it won't be really sticky.

Take a grapefruit size of dough and shape it like a mushroom by starting with the center and folding the bread down to the bottom. Place on greased pan. With a serrated knife, make slits in the top and sprinkle with flour. Cook in oven for 30 to 40 minutes. Enjoy with fresh butter.
Servings:
about 4 loaves
Time:
15 Minutes Preparation Time
30-40 Minutes Cooking Time
Source: I got this recipe from the book, Artisan Bread in Five Minutes a Day.

By Becca from Bellflower, CA

Answers:
Artisan Bread
I'd like to try this but am totally confused by: "shape it like a mushroom by starting with the center and folding the bread down to the bottom." Can someone explain that further? (02/17/2010)
By Glenda
Artisan Bread
I make this bread too, have the book. I wish I could get across to people how easy it is. To try and answer your question, mymagicword, it is like this. Pick up the lump of dough and make sure you have floured hands and stretch the dough around the side and under pulling from the center out. Don't worry the first time if you don't get it shaped so well. It it so good you won't notice that it is not shaped perfect. You will get onto it in time.

My favorite is the Deli Rye bread. So flavorful! The same authors have a new book out now and it is called "Healthy Bread in 5 Minutes". I want it because it has all the recipes that are better for you. The cheapest place to buy it that I have found is online at www.overstock.com
This is one I tried using the the Challah recipe, which is a Jewish bread, not Jewish but it was really good. (02/17/2010)

By Elaine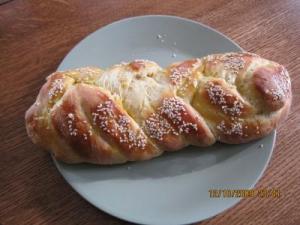 Artisan Bread
Your recipe sounds good and easy. I figure on making only one loaf at a time. How long can the rest of the bread dough sit in covered bowl before you have to use it up? (02/18/2010)

By Paula Hardy
Artisan Bread
Hold the dough in both hands, fingers underneath and thumbs on top. Rotate your hands away from each other. This stretches the dough from top to bottom. Turn it 1/4 turn and repeat. If sticky, sprinkle flour on dough and hands.
Do this for a minute. You still end up with a ball of dough. (02/20/2010)

By Vin
Artisan Bread
I have the same question as fihardy Should it be refrigerated to use on another day? Does it keep well after it's baked? Or would I be better off halving the recipe? (02/27/2010)

Artisan Bread
I don't mean to hijack Becka's post, but Monique, the poster is referring to dry yeast. I buy it in bulk and store it in refrigerator to keep it fresher.

For the rest of you who ask about shaping it, I would not worry too much if you don't understand the directions for that. Put it in the shape you want and it will come out fine. The object is to have a smooth top, no matter what shape you put it in, it will taste the same. Lol.

You can just break off a hunk and make it whenever you need it. Most of the recipes in the book can sit in the fridge for awhile, I think the least being 5 days. The deli rye can sit in the fridge for 2 weeks. But you can also freeze the dough if you see you are not going to use it up. You will just have to take the time to thaw it and let it raise, same as when you buy frozen bread in store.

I have a friend who thought she could not make bread till she bought this book. She called me up and then said "you have created a monster," meaning I have not bought a loaf of bread since I learned to make it this way.

Here is the deli rye. Also, to get the hard crust on the outside and soft in the middle the author of the book suggests you bake it on a cooking stone or as some call it, a pizza stone. And it is recommended that you put a cup of water on the rack in the oven to steam it.
(03/15/2010)

By Elaine