This creamy and moisture rich conditioning treatment is a great, natural way to rejuvenate dry hair. The avocado and yogurt nourish each strand with the moisture and protein they need.
Approximate Time 5-10 minutes
Supplies:
1/2 cup mashed avocado
1/4 cup plain, unsweetened, yogurt
1/4 tsp. lemongrass essential oil
1/4 tsp. chamomile essential oil
1/8 tsp. jasmine essential oil
1 Tbsp. jojoba oil
2 Tbsp. water
Instructions:
Slice open the avocado and scoop out the green flesh. Mash the flesh in a bowl until you have 1/2 cup of smooth, creamy, avocado.
Combine the avocado, yogurt, and oils together in a bowl with a fork, as shown in the "Step 2" picture. Sprinkle in the water and mix very, very well. You may even want to use a blender or electric mixer if one is handy. Once the mixture is smooth, creamy, fully combined, and of a uniform color, as shown in the finished picture, it's ready to be used.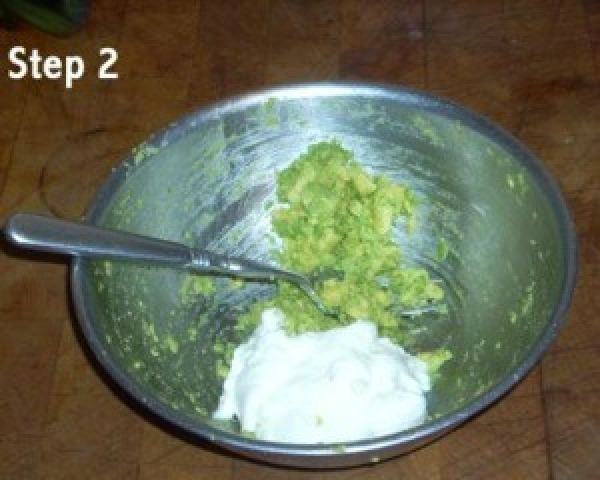 If you do choose to use a blender, remember to scoop out the mixture that will get caught in the bottom. Try to scrape out as much mixture as you can. The blender will eat some of the mixture up, so you may want to make a little more to compensate.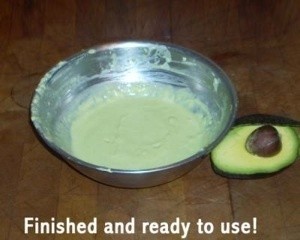 Saturate your hair in the mixture before shampooing. You can use it with dry or wet hair. Make sure to cover every strand of hair with the conditioning treatment. Pull your hair up and put it in a shower cap. Let the conditioner sit on the hair for at least fifteen minutes. For even better results, try wrapping a warm towel around the shower cap to help the oil soak into your hair.
Once you've let the conditioning treatment sit, go back in the shower and rinse it out. Use a gentle shampoo to clean your hair, then rinse again. You do not need a regular conditioner. Just leave the shower after rinsing out the shampoo and let your hair dry as usual.
If you have some of the mixture left over, store it in a lidded Tupperware container and pop it in the fridge. It should last 3-4 days if stored properly, but since it has fresh food products it will eventually spoil.
By Aysha from Boise, ID
Read More

Comments
After seeing an avocado facial offered at a spa, I decided to make my own. All it takes is to scoop out the inside of the avocado for eating later, then cut the skin and place directly it onto your face.
There will be enough residue avocado to moisturize the skin.