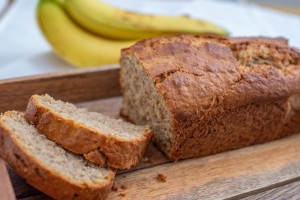 Ingredients
3/4 cup sugar
1 1/2 cups mashed bananas
3/4 cup oil
2 eggs
2 cups flour
1/2 cup chopped nuts (optional)
1 tsp. baking soda
2 tsp. vanilla
1/2 tsp. baking powder
1/2 tsp. salt
Directions
Heat oven to 325 degrees F.
Grease loaf pan with shortening or cooking spray.
Mix sugar, bananas, oil and eggs in a large mixing bowl. Stir in remaining ingredients. Pour into pan.
Bake at 325 degrees F until toothpick inserted into center comes out clean.
About 60-70 minutes let cool. Loosen sides of loaf from pan and remove from pan.
Allow to cool completely before slicing.
By imaqt1962
Adapted From The Alpha Bakery Children's Cookbook This is a cookbook for children with recipes from A-Z published by General Mills/Betty Crocker in 1991.