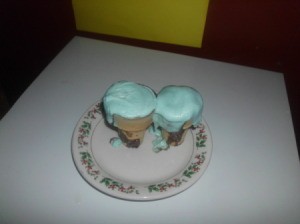 These are a little messy; the kids did these ones. Bake cupcakes right in an ice cream cone. It helps keep messes to a minimum and everything is edible.
By coville123 from Brockville, Ontario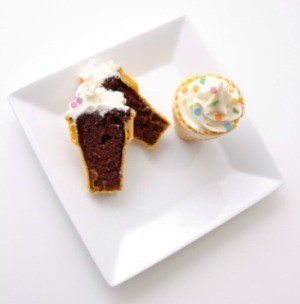 Does anyone have a recipe or the name of a store bought icing that will really 'stand up' without that melting look? My daughter-in-law is planning my grand baby's first birthday party. I bought her cupcake molds in the shape of ice cream cones, so she's going to use cake mix to make the 'cones' then slice off the tops. She wants to pipe the icing on top of the cupcake ice cream cones so the icing will look like ice cream on top of the ice cream cone cup cake.
Today we tried Duncan Hines Whipped vanilla icing and within about 20 minutes those cupcakes were a sad site. They looked like the icing just melted in the sun. Any ideas out there please? The birthday party is in early May, so the sooner your suggestions, the better, please. Thank you!
By metroplex from Houston, TX
Answers
April 10, 2009
0

found this helpful
Best Answer
I agree, a good old buttercream icing would do the trick! Mama used that icing on everything and it is soooo simple to make and you can tint it any color you choose with simple food coloring!
1 box of confectionary sugar
1 stick margarine, room temp
1 teaspoon vanilla flavoring
milk to desired consistency
Empty confectioners sugar into mixing bowl, add margarine, mix on medium until smooth, add vanilla. Add milk until desired consistency reached. You can divide into different bowls and tint into however many colors you choose and then drop down into pastry bag and pipe onto cupcakes!
This icing will harden just a bit when it sets.
Good luck!
April 12, 2009
0

found this helpful
Best Answer
Try Betty Crocker fluffy white frosting mix.
Answer

this Question
I made ice cream cone cupcakes, but the bottoms of my cones burned so I had to throw them all away. Am I the only person this happened to? I followed the recipe that said to put the cones in a muffin tin, and cooked them at the suggested temperature and they still burned.
I was wondering if anyone else had this problem!
Answers
April 28, 2018
0

found this helpful
Best Answer
My neighbor makes these and she said the same as Judy - use paper cups.
But I was curious and looked it up on the Internet and wow - so many recipes and seems like almost no two were alike.
the one thing I did notice - many had different temperatures for oven (but most said to follow directions on box for muffins).
One did mention the difference in muffin pan material:
Heat oven to 350°F (325°F for dark or nonstick pans). Place paper baking cup in each of 24 regular-size muffin cups.
Hope they turn out better next time.
Answer

this Question
I remember in the early 1970s a TV homemaking program that put a large marshmallow in the bottom of the ice cream cone before adding batter to make the ice cream cupcakes. Does anyone else remember this and does it work?
By Jacki
Answers
November 16, 2014
0

found this helpful
I remember the suggestion, although I never did it, did you?
Answer

this Question
Cupcakes can be messy for little ones when they are trying to remove the cake from the paper. Instead of using the paper liners, put flat bottom type ice cream cones into the muffin pan. Mix up the cake batter and pour into the cones, filling about 2/3 full and bake according to directions for the cake batter you are using. Top with your favorite icing and sprinkles and you have a portable feast for birthday parties, class parties, picnics, etc. The kids like them and you will enjoy the ease of cleanup.
By Sandy from Elon, NC
Answer

this Question