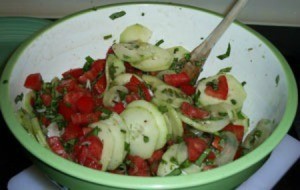 These meals are intended to be a relatively simple and healthy weeknight meal for a family of four. We assume that these dinners are being made in a kitchen stocked with regular kitchen staples. We will not include prices of oil, sugar, flour, spices, etc. unless you need a 1/4 cup or more. Regional food prices may vary and can be reduced by smart shopping techniques.
This $10 dinner was inspired by and purchased at a local farmer's market. Seasonal vegetables tend to be much cheaper directly from the source. A total of about $5.00 was spent on the veggies for this salad.
Shopping List
3 large tomatoes
1 bunch fresh basil
1/2 bunch green onions
2 cucumbers
Veggies = $5
1 lb. boneless chicken breasts
$2.69
Balsamic Vinagrette Salad Dressing
$2.00
Total Cost = $9.69
Staples
olive or canola Oil
salt and pepper
Directions
Thoroughly wash all vegetables and let dry. Peel cucumber, if desired. Add veggies in the following order: Slice into thin circles or chop cucumber. Slice or chop your tomatoes. I would half the tomato before slicing. If your tomato is very juicy and full of seeds, seed it first. The tomatoes from the farmer's market were very dense and red.

Chop green onions, using all the white and most of the green parts. Basil should be cut into small ribbons. The best way to do this is to stack the leaves together, roll them up (like a cigar) and slice across the roll. I usually do a couple of passes lengthwise to avoid very long pieces. Add a small amount of salad dressing to coat all the vegetables and mix well. Place in refrigerator until serving time. This should be allowed to set for at least 20 minutes so the flavors can meld. You could make this the night before, if necessary.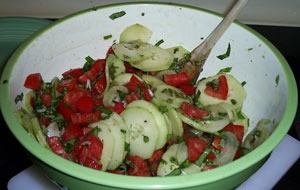 Heat a lightly oiled grill pan over medium heat. Salt and pepper the chicken breasts on both sides. Grill for about 4-5 minutes on each side, until cooked through. Allow to rest for 5-10 minutes and coarsely chop. You could also grill this on a barbecue or broil it in the oven. Place chicken on top of salad, either in main bowl or individual servings. This salad can get a bit juicy so I use a slotted spoon to serve in into individual bowls, leaving the juice. It is also easier to make sure everyone gets equal servings of chicken that way.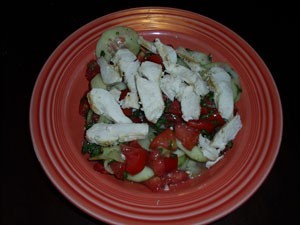 Tips:
This salad is perfect for hot summer evenings, when no one wants to cook or eat. It would also be good as a potluck salad as the flavors will continue to improve.
You can substitute the balsalmic vinaigrette with an Italian dressing or simply dress it with olive oil, balsamic vinegar, salt, pepper and, maybe, some garlic cloves, crushed or pressed.
Prepackaged chicken, leftover or rotisserie chicken would also be fine for this salad.
Mozzarela (especially fresh) would be wonderful with the tomatoes and basil. You could also use an Italian blend or Parmesan.
Any seasonal vegetables could be added if desired but will dilute the tomato/basil flavors.
Lettuce or spinach could stretch this meal, or make it a more traditional salad.
Croutons, or fresh bread cubes added to this would soak up the juices and make a "bread" salad, which would be much more filling.