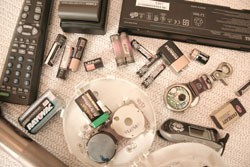 Household batteries include both single-use and rechargeable dry cell batteries used to power toys, cameras, radios, flashlights, hearing aids, and many other portable products. Nearly all households produce waste batteries, in fact, Americans use and discard about 3 billion batteries every year. That adds up to 125,000 tons of battery garbage.
This waste may contain heavy metals that can find their way into the environment if the batteries are not disposed of properly. By reducing battery use, recharging reusable batteries, and recycling, you can cut down on the effect your battery use has on the environment.
Reduce
Evaluate purchasing battery powered items. Items that require a plug-in or manual operation may work as well or better than battery operated items.
Avoid purchasing batteries containing mercury. Shop for batteries that contain no added mercury.
Recharge
Reduce overall waste by using rechargeable batteries. Ni-Cd batteries can be recharged and reused up to 1,000 times before you need to replace them and rechargeable alkaline manganese batteries can be reused up to 25 times before needing to be replaced.
Using rechargeable batteries will save you money in the long run. Instead of continuously buying new batteries you'll simply keep recharging the old ones. The initial investment of rechargeable batteries and a charger will quickly pay for itself, as well as generate far less waste.
Recycle
Rechargeable Ni-Cd and Sealed Lead Acid (SLA) batteries contain nickel, cadmium and/or lead that can be recycled at household hazardous waste collection sites.
Button batteries contain mercury and silver that can be recycled. These batteries should also be brought to a household hazardous waste collection site.
Household Battery Do's:
Do use rechargeable batteries whenever possible and recycled the Ni-Cd and SLA rechargeable batteries when they have been exhausted.
Do recycle button batteries by taking them to a household hazardous waste collection site.
Do buy "no-mercury added" batteries.
Do remove batteries from items you plan to store for prolonged periods of time so they don't corrode, leak and ruin your equipment.
Do purchase batteries just before you need them because batteries do have a limited life.
Do remove the hidden batteries in disposable toys, cards, watches and calculators before throwing those items away.
Household Battery Don'ts:
Don't mix new batteries with old batteries. This draws more power from the new battery, shortening its life.
Don't place batteries or battery-powered equipment in hot areas (like the back window of a car). Heat accelerates chemical reactions inside of batteries and shortens their life.
Don't store or mix loose batteries with metal objects. Batteries may short-circuit, cause sparks or generate temperatures hot enough to start a fire.
Don't mix different types of batteries within the same device (e.g. rechargeable Ni-Cd and alkaline rechargeable). This can reduce battery life or even ruin your equipment.
| | | | |
| --- | --- | --- | --- |
| Battery Type | Common Name | Common Use | Proper Disposal |
| Alkaline. Manganese | Coppertop, Alkaline, Energizer | Flashlights, calculators, toys, clocks, smoke alarms, remote controls | Place in trash |
| Button | Mercuric Oxide, Silver Oxide, Lithium, Alkaline, Zinc-air | Watches, hearing aids, toys, greeting cards, remote control | Bring to household hazardous waste collection site |
| Carbon Zinc | "Classic," Heavy Duty, General Purpose, All Purpose, Power Cell | Flashlights, calculators, toys, clocks, smoke alarms, remote controls, transistor radios, garage door openers | Place in trash |
| Lithium | Usually states "Lithium" on the label | Cameras, calculators, computer memory back-up, tennis shoes | Place in trash |
| Nickel-Cadmium (Rechargeable) | Usually unlabeled or labeled "Ni-Cd" | Flashlights, toys, cellular phones, power tools, computer packs | Bring to household hazardous waste collection site |
| Reusable Alkaline Manganese (Rechargeable) | Renewal | Flashlights, calculators, toys, clocks, radios, remote controls | Place in trash |
| Sealed Lead Acid (Rechargeable) | "Gel," VRB, AGM, Cyclone, Dynasty, El Power, Gates, Lithonia, Saft, Panasonic, Yuasa | Video Cameras, power tools, wheelchairs, ATV's cameras, metal detectors, clocks | Bring to household hazardous waste collection site |
Comments
By Linne Dodds (Guest Post)
May 30, 2007
0

found this helpful
Top Comment
3 ways to save on Batteries .
1.]Wait for Buy 1 get 1 free sales on batteries
2.]Some states have Sales tax amnesty days for Storm Supplies .
3.] Got this Hint from Heloise too many years ago to recall & could never count the Savings .
When devices start to slow down .
Clean the contact points of batteries & the products they go in with an abrasive like an Emery Board[Nail File]
This can work Several times .Saving Money & The Earth .
Sandpaper,Burlap,Terry Cloth,rocks,concrete ,pencil erasers [the pencils can reach way down in devices,even tree bark Works .
I know because I got through a 46 hour Storm Related Power outtage one One Set of Batteries , just by Rubbing them off .