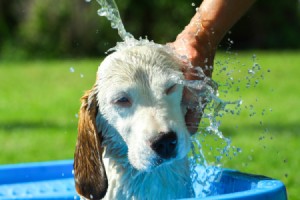 I live near Portland, Oregon and we are in the midst of a heat wave. We usually have temperatures in the 80s at this time of year, but today it is forecasted to be 105! Many people, including myself, don't have built in air conditioning. Here is what my family is doing to keep cool.
Keep the Doors Closed
Every day this week, I have cautioned my family about leaving the doors open. Generally, we leave our back sliding door open to allow our dog to wander freely. Right now, I want to keep as much of the heat outside as possible. During the day, we try to go outside as little as possible. I make sure all the windows are closed in the morning and that the blinds or curtains are drawn. We have hung a bamboo screen in front of our living room window, which gets the brunt of the late afternoon sun.

Water is Your Friend
Yesterday, my husband installed a mister hose above our back patio. The mist makes the heat more bearable. You can jury rig a mister by using the right setting on a spray nozzle or by just using a spray bottle full of water. If the weather is not too hot outside, a sprinkler or wading pool is a summer favorite, even for adults.
Another way to cool off in a hurry by taking a shower or bath. This is a good activity for bored kids who have been cooped up inside for too long. A cold wet washcloth is also good for instant relief from the heat.
If you have animals, make sure the water dish is topped off regularly. I like to add ice to my dog's bowl. You can also use this opportunity to give your dog a bath, which will cool you both down. We bathed my dog in the backyard last night, in a kiddie pool. She never enjoys baths but she looked much more comfortable afterwards.

Find a Place With A/C
When it is hot, it is difficult to imagine turning on a stove to cook dinner. Not only would you be adding to the heat but most people do not feel like eating much in hot weather. For my family, that has meant seeking out a restaurant with good A/C. After being in the cooler temperatures for a little while, our appetites return. However, in heat waves, the normal A/C unit might be overtaxed. Our favorite pizza place was a literal oven when we visited last night, with an indoor temperature of 91 degrees! Tonight, we are going to a place where I always have to remember a sweater because the A/C is up so high.
If you do not want the additional expense of eating out, you can still find places to go with air conditioning. Art galleries, museums, libraries and malls generally have good A/C. If you are willing to pay a little, bowling alleys and movie theaters are a good way to use up a few hours.
If you are planning to eat at home, consider ways to avoid the stove. Grilling is a popular choice as is using a slow cooker or microwave. Personally, I serve cold dishes like sandwiches or salads. I also try to make lunch the bigger meal of the day and keep dinner light.
Cooling Airflow
We have ceiling fans running in the dining room and the master bedroom. The other bedrooms have box fans. This keeps the house feel cooler than stagnant air. As soon as the sun sets and the outside air is cooler than the inside, we open up all the windows and doors and use window fans to cool down the entire house.
Sometimes, this isn't enough to cool off the house quickly. For the worst hot days, my husband and I sleep in the backyard on an air mattress. We did this last night and it was much more comfortable than my bed the night before. I'll do the same tonight.
What are your tips for keeping cool in hot weather?