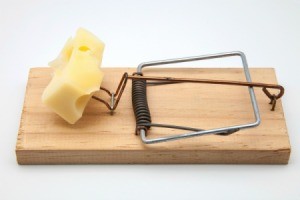 I have tried peanut butter, honey peanut butter, cheese, and gumdrops; the mice do not touch these. What else can I use? I am using the Ortho traps.
By Michele
Answers

July 29, 2011
0

found this helpful
Why would you ever use a mousetrap anyway? It is medieval. If you have mice in your home use humane mouse traps so you can release them outdoors. Also permanently fix the problem as to why you have mice where you do not want them. Don't kill them. Have some respect!

July 29, 2011
0

found this helpful
Maybe the problem is where you are placing the traps? The best area is around the edges of the room, and of course the humane ones are the ones to use.

July 30, 2011
0

found this helpful
Mice (and rats) love raw bacon. Probably the fat.

Louise B.
Silver Feedback Medal for All Time! 337 Feedbacks
July 31, 2011
0

found this helpful
And I swear by a cat. I have had one mouse in my house in 25 years. By the time I knew I had a mouse, the cats had dealt with it. I have 2 house cats at the moment, one is the hunter; one is the moral support and comic relief.
In the meantime, while you are looking for a good house cat, popet has good advice. You may not be putting the traps in the paths that the mice use. My mother swears by peanut butter in traps. You have to be sure that the stuff is not easily stolen out of the traps. This is why peanut butter is good. If you have mice, and they are not coming to the traps, try moving them to different locations.

May 26, 2016
0

found this helpful
Peanut butter is usually okay, but Nutella works better. Additionally, a little bit of dollar-store powdered chicken soup mix with enough water added to make a gooey paste will also attract mice.
McDonald's french fries also seem to be irresistible to them.
The bait should be changed weekly so the scent is strong.
Mice often travel up through floors by holes that radiator pipes come up through, or even plumbing. You can easily seal these holes by jamming steel wool (real steel wool, not SOS pads or Brillo pads) into the gaps and sealing it with cheap caulking.
I find that the sticky pads that fold into tubes work best, because once the mouse gets stuck in the tube they're a lot less likely to drag the tube around and get it stuck to furniture, etc.
And as to the PETA brigade on this thread, you can get very sick if you eat food contaminated by mice, and mice also carry fleas which can give you fatal diseases. They're not pets, or our friends.
Answer

this Question