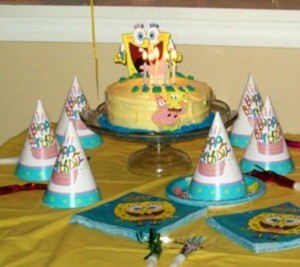 Kids always want cartoon birthday cakes. Make your own cake decorations! Mine were cut out of kids Valentine cards. Make your own cake and stick the cutouts on the cake. Get matching hats and napkins from the dollar store. For adults, you could use cut-outs from old birthday cards or Mother's Day cards.
By vickie guy from Earle, AR
Quickly, easily, and inexpensively, create a cake decoration for your child's birthday cake. Find gift wrap or other paper with a themed picture on it such as Spiderman or Barbie. Cut it out and laminate it. Just before presenting the cake, lay the laminated picture on the cake, and pipe a little icing around the edges, if desired. The picture can be as large or small as you like. I have done this for my twins' birthday (two cakes!) and used wrapping paper with 5-inch pictures of the various Disney princesses.
By VA_Mom of Three from Ashburn, VA
My sister will be celebrating her birthday soon and I am suppose to buy a cake for her. Instead of buying a cake I want to bake one. I am a pretty good baker, but I need a recipe of a birthday cake. Any recipes for any types of cakes will be greatly appreciated.
Thanks.
By sarah bajan
Answers
October 10, 2012
0

found this helpful
Just bake what she likes! A birthday cake can be anything, shape, flavor, texture, cake mixes, brownie mixes or a really complex recipe. Just add candles. That will make it a birthday cake.
October 10, 2012
0

found this helpful
After you get the cake baked and your are ready to decorate it, get a pkg of Twizzlers Twists. They make all flavors and colors now. Cut them in half to make how ever many candles you will need for the b-day girl. Insert a candle in one end of each Twist and push the other end into the cake. You can put these at all different heights on your cake to make for easier lighting. You can even put them in the cake at a slant if you want to. The Twists make really unique edible candle holders.
October 11, 2012
0

found this helpful
S.B., you asked for a "birthday cake recipe." Do you really mean the cake itself, or the decorations? Decorating would depend on age & things she likes. For the cake, which I thought you meant, her favorite would be best; but what comes to my mind is "wedding-cake white." That's so very simple, and delicious. What is it? It's simply white cake with almond extract added!
Quick and simple decorating for a cake is to pick icing colors that suit the birthday girl, write a simple Happy Birthday (Sis) or whatever you choose (Go girl, whatever!) and add some flowers on and/or around the cake. Fresh work, but if you're concerned get some artificial flowers (her favorites or orchids, roses, whatever) and 'dismantle' the blossoms & some leaves from the stems if they're too large.
Have some fun with it, an' if you're timid about writing with icing, practice on waxed paper or a plate (maybe the size of the cake as well, to make sure you can get all on you want to!).
I really miss being able to make birthday cakes for the family as I did many years ago. Again, have fun! Good luck
October 11, 2012
0

found this helpful
Hi S.B. Well, I'd started chatting atcha a couple hours ago--too many interruptions! Meanwhile, eggz chimed in with the obvious.
Anyhow, whatever cake is her favorite--and for decorating, simplicity would be Happy Birthday Sis'name, which you can write with icing or buy suggar-letters in the baking section at the grocery store. (Don't forget you can write anything you want as well!) Flowers are a simple addition--fresh are fine, but if you're concerned, get some artificial ones. If too large, take blossoms & some leaves from the stems and place on/around the cake. You can also find little dohickies (hmmm? y'know, charms, lil people or such in the toy or party section, dollar stores are great for these) to add to the cake (with or without flowers, o'course!)
Her favorite cake, her favorite colors, her favorite flowers...cinch.
When I first read "cake recipe" I thought of Wedding-Cake White. That's easy, and delicious. It's just white cake mix with almond extract added.
I sure miss being able to do home-made b'day & special occasion cakes! Good luck, and have fun!
Read More Answers
I'm trying to find a idea for a birthday cake made like a tree. Can this even be done?
Answers
December 8, 2008
0

found this helpful
I think the easiest is to make cupcakes and arrange them to look like a tree. Swirl on the green icing and then decorate with all the trimmings.
December 9, 2008
0

found this helpful
The cupcake tree idea is great. Another thought might be to buy a special cake pan in the shape of a tree (I've seen Christmas tree pans). Of course, if you don't plan on using the pan often, I'd go with the cupcake idea. Happy baking!
December 9, 2008
0

found this helpful
You can bake a sheet cake in a 9x13 pan, let it cool, and then trim it into the shape of a triangle. Use a piece of trimmed-off cake cut into a square to make the trunk, or use a chocolate snack cake. Frost the whole thing green. You can use coconut to simulate snow sprinkled on the branches, and all different kinds of candy for your ornaments.
By Jamie (Guest Post)
December 10, 2008
0

found this helpful
OK, so this isn't exactly what you ask for, but if you want to do cupcakes instead... when I taught K, I came up with this for our food Christmas project. Use a sugar cone (the pointed ones that look like a dunce cap), and "paint" them with a good layer of green frosting. We then used string licorice and sprinkles to decorate the trees. You can set them on top of vanilla ice cream scoop or a cupcake frosted with white icing for "snow" on the ground" Just an idea!
By Jamie F. (Guest Post)
December 10, 2008
0

found this helpful
Another idea is to bake 1 9x13 and cut it diagonal and then place the two points together-it will then have a large triangle look. You'll have to bake a small rectangle for the trunk, too.
December 10, 2008
0

found this helpful
Gotcha all. Thanks, I'll try these great ideas.
By guest (Guest Post)
January 16, 2009
0

found this helpful
Look at Collettes Cakes - she is a cake decorator and has a pine tree cake in one of them that she took several round cakes with different heights and stacked them.
Answer

this Question

...
My son's birthday is Saturday. He will be 17 yrs old. Can someone please give me some ideas how to get his cake decorated?
By debbie from Jonesville, LA
Answers
March 27, 2009
0

found this helpful
www.kayscakes.net/birthdaycakes.
There's lot of pictures there of cakes. You can get some ideas, good luck.
March 27, 2009
0

found this helpful
Mmm...17? He must have a favorite sports figure, or skate board hero or Nascar driver? Themes like that always worked well for my kids, and my grand kids. Pat T of Nevada
March 28, 2009
0

found this helpful
Do you need a decorated cake? My daughter's favorite cake is the Chocolate Heath Bar cake. I made it the first time for her 16th birthday party and all 40 kids loved it. Not a crumb left.
March 28, 2009
0

found this helpful
Just make a gorgeous well-frosted cake in the flavors he likes and put "Seventeen" on it.
March 29, 2009
0

found this helpful
When my boys were teens edible was the only decoration needed. Just make it and serve it.
Answer

this Question

...
My 12 year old wants me to make him a cake that looks like a sombrero for his birthday. Any suggestions on how to do this? Thanks

Maureen from Baker, LA
Answers
July 24, 2007
0

found this helpful
I'm seeing a bundt cake with a sugar/waffle type cone stuck in the middle- decorate with yellow frosting- red licorice strings and green m&ms.
By Joyce (Guest Post)
July 25, 2007
0

found this helpful
you could bake a layer in a deep dish pizza pan another layer in a pyrex bowl that is smaller at the bottom than the top. when cool center the one from the bowl on the other and frost , sounds like fun, good luck
July 25, 2007
0

found this helpful
Thanks for all the help! All of the ideas were really helpful. Now I just have to decide on which one!
Answer

this Question

...
April 19, 2015
0

found this helpful
I'm having a 16th birthday party, but it's going to be a joint party with my boyfriend! Any ideas on what we can have on the cake if we get it ordered somewhere?
By Caitlin from Wellington, NZ
Read More Answers