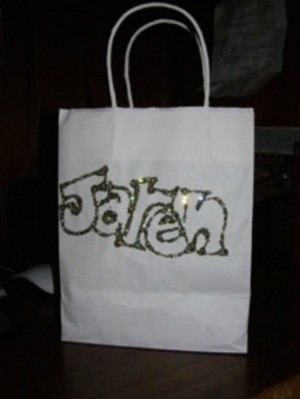 This is a photo of a goodie bag I created for my son's Chuck E. Cheese birthday party in May. I was going to go the normal route and buy those cheesy little plastic goodie bags but, with all the items I wanted to give the kids, I thought they were too small and easily punctured.
So I bought some cheap white gift bags at a hobby store (think they were 78 cents a piece), got out the Elmer's glue, glitter (silver for the boys, red for the girls) and made homemade goodie bags. Not only were they inexpensive and easy to make, the parents loved them because they were unbreakable and they could load lots of stuff in them to take home. Plus they had their names right on the bag so you didn't have to figure out whose was whose.
I wrote in big block graffiti style for the name of the child and then on the opposite side, regular lettering for goodie bag, but you could do it how you wanted. I also tied each bag (to the handles) with a helium balloon. Everyone commented on them. It was such a great and cheap idea!
By Michele from Marysville, OH
For my daughter's recent birthday party, I wanted everything to be special, but (as always) we were on a strict budget. I came up with a simple but adorable idea for goody bags!
I bought brightly colored craft bags (like lunch bags but in neon colors) and punched a hole in one corner while it was still folded (through both sides and the fold). I then strung white paper ribbon through the hole. I had purchased artifical hibiscus flowers and beads for leis, and I strung them on each end of the ribbon. Tied in a loop, the ribbon made a perfect handle for the bag. I stencilled each girl's name on the bag, and VOILA!
Very pretty goody bags for less than twenty cents each!
I need some good ideas for favors for my son's first birthday (July 2007). We are doing an animal theme. I found the invites on sale for $1.00 at Walmart. It will be a barbecue at our house with a jumper and face painting (my mom is doing the face painting). We are making the pinata and we'll have the kids decorate their own cupcakes. We'll order a whole bunch of mutli-colored balloons with little color animals printed off the internet attached by ribbon to hang all over.
Nothing fancy. The only area I'm having a little difficulty with is favors.
We will have 35-40 children (DH and I both have huge families). I found white craft bags on sale at Walmart but have no idea what to do for favors. The kids coming range in age from newborn to preteen. Any ideas? I am trying to keep each goody bag under $1.50.
Misty from Antelope Valley, CA
Answers
By (Guest Post)
March 11, 2008
0

found this helpful
Maybe instead of favors you could get some inexpensive plain frames from the craft store, they usually come in packages of 3 or 5 and are unfinished wood or paper mache' You could also get some animal foamies (small foam stickers with animal shapes and designs) and small stickers ect. Have each child maybe in groups, decorate their frames and have someone with a digital camera and printer take their picture at the party. That way they have a more lasting memory instead of candy and toys. Good luck and I hope your child has a happy birthday!
March 12, 2008
0

found this helpful
Are you sure you want that many kids of differing ages at one time? Maybe you should have at least two different parties? I can't imagine that they will all have a good time with that many people. That being said, a piece of fruit, a small book, some penny candy or homemade candy, a bookmark, a rubber ball, or homemade soft ball or beanbag, a pencil, a small pack of crayons, one whimsically shaped crayon or piece of sidewalk chalk, hair ribbons for the girls, army, firemen, or cowboy figures, a pack of seeds small clay pot.
Most things can be purchased at a dollar store or at www.sciplus.com
By jojo (Guest Post)
March 12, 2008
0

found this helpful
Before visiting this site (and others) in recent years, I never realized that party lootbags had to contain any more than a slice of the birthday cake and some candies/lollies to take home. Maybe that's just a U.K. thing? It sure made life a lot easier and less expensive :)
By (Guest Post)
March 12, 2008
0

found this helpful
Thank you for all your suggestions. I love the frames and photos one!
By denise w (Guest Post)
March 13, 2008
0

found this helpful
Animal crackers would work great stays in theme and very inexpensive.
By Jeannie (Guest Post)
March 13, 2008
0

found this helpful
With the variety of ages cruising the dollar store is a must.Also visit stores the day after Easter, and perhaps you'll find some good bargains. The craft stores may have thing then too that you could adapt for all ages; lip gloss, novelty gums, hair decorations, stickers, candy, snack bags, pencil's pens.
After Easter is a good time to pick up what is not sold before, K-marts, and Walmart have 75 percent off sometimes.
By Paula Jo Carr Mebane, NC (Guest Post)
March 13, 2008
0

found this helpful
Go to Oriental Trading Supply.com for lots of inexpensive candies, toys and paper goods for birthday parties, PLUS a lot of different stuff too like Halloween costumes all very inexpensive. I use them all of the time for different things.
Try it out - your will be a happy camper when see what they offer and how cheaply they offer it to the public too!
GOOD LUCK!
March 13, 2008
0

found this helpful
Look at the dollar tree,and don't just rely on the packages of "party favors", go to the toys and sometimes you may find multi packs of different items. Maybe a pack with 20 high bounce balls for example. Glow jewelry make good favors, and since you're going with an animal theme, how about buying the large packs of plastic farm or jungle animals and putting one or two in each bag? I also used to buy sheets of stickers and cut out the individual stickers and put a few of them in each bag; the same goes for those temporary tatoos. Just look around, there are lots of great ideas out there.
March 15, 2008
0

found this helpful
Good news I found a package of 58 candy filled eggs in different colors at Walmart for $10.00, so I'll do those and then some stickers and a little toy or two. Thank you all so much for your help!
Answer

this Question

...
I am hosting a pamper party for my sister's 22nd birthday. I was wondering what should I put in the goody bags, and also what food to serve. I have 2 friends coming who will be supplying the treatments.
If you can help, I would be ever so grateful.

Danielle from Surrey, UK
Answers
August 30, 2007
0

found this helpful
You can find lots of really nice shower gel, soap, and lotions at stores like big lots and dollar stores. I also found a container holding 6 small spoofs for shower gel for a dollar. One in each bag would be nice. Dollar stores also always have bubble bath, bath beads and small decorator soaps that would go great in the good bags. I would suggest making the food like an appetizer banquet.
August 31, 2007
0

found this helpful
I would like to suggest rich, decadent food.
Fruit and fruit dip, brownies topped with ice cream, and the choice of warm fudge or warm caramel sauce.
Stuff like that.
By joyce craig (Guest Post)
September 1, 2007
0

found this helpful
Try a girl's trendy buffet of fondue. It's amazing how much fun everyone will have dipping into different sauces with a large assortment of delicious goodies.
In your goody bag, remember the pamper "me" items, such a small lotions, nail items, and perhaps a "Cutie" pack of tissue for the purse. A greater bonus would be a lip stick mirror. Adorn with multiple shades of tissues and don''t forget to curl and shread your ribbons. It gives them the "little extra something". Ladies just adore our monthly luncheon favor bags always made around the "Theme". Another inexpensive trick is to use 60 inch width material off the bargin table. I love the 1.00 sales. Cut your squares to fit the inside of your cello bag and then stuff your favor . The fabric will add a extra something while the ribbons finish the completed look.
Happy creating! Joyce Craig (Dancing through with joy)
By Veronica (Guest Post)
September 1, 2007
0

found this helpful
I don't know about the rest of the world, but here in Sweden you can now get mini bottles of just about anything hygiene related (because of new airplane security rules that only allow you to bring small amounts of liquid into the plane). They're small and cute and could fit into all kinds of goodie bags.
By marie (Guest Post)
September 1, 2007
0

found this helpful
Bath & Body Works sells trial sizes of their lotions, body sprays, & bath gels. Reasonable prices & great size for goody bags. Also, Whitman's Sampler chocolates sells personal size boxes - 4 pieces a box for under $1.00.
By cristy (Guest Post)
September 2, 2007
0

found this helpful
I did this one year for a party. What I put in the goody bags ,was like perfumes small candles etc, and you could also give them a gift certificate for Bath and Body Works or something.
Answer

this Question

...
May 31, 2011
0

found this helpful
I am having a gymnastics party for an 8 year old. I wanted some ideas for what I should put in the goody bags? I looked at shutter glasses and glow sticks. Can I know what else to put in the goody bags?
By Kim D.
Answers
May 31, 2011
0

found this helpful
The only things that come to mind would be some scrunchies or hair ties, as most of the girls tie their hair back for gymnastics. The only other thing I can think of getting some pretend gold metals on ribbons at a party supply place or orientaltrading.com.
June 1, 2011
0

found this helpful
Stickers, jump-ropes, reusable water bottles, colored shoe strings, Hope this helps.
June 2, 2011
0

found this helpful
I Googled "gymnastics party favors" and quite a few options came up. This link below shows a purchased goodie box with various items that are good ideas! I know I've seen the little trophies at the dollar stores. Sounds like fun! Happy Birthday to your 8 year old!
http://www.birt tyKitDetail.aspx
Hope that helps.
June 3, 2011
0

found this helpful
Lip gloss or balm, light fragrance spray, bath puff.
Answer

this Question

...