Stupid me. I carried a bottle of bleach into the house and set it down on the carpet. Yea, you guessed it, the bottle was leaking. How do I get those spots back to green?
April from Pittsburgh, PA
Answers:
Touching Up Bleach Stains On Carpet
You'll have to live with it until you replace the carpet. You have bleached out the carpet color and you cannot touch it up without it looking worse than it does now.
(11/16/2004)

By weseye
Touching Up Bleach Stains On Carpet
Maybe some shoe polish? (11/16/2004)

By ML
Touching Up Bleach Stains On Carpet
I have an idea that sounds crazy but I think it would work! I recently decided to put some hair color on my hair. I was a little careless and a few drops of the color dripped on the cream colored carpet I have in part of my bathroom! The color is beautiful (beautiful russet brown!) and there to stay! If I were you, I would pick up some tan paint color samples and find the color closest to the tan carpet color, then take that sample color to the hair color department and choose the closest hair color to your tan carpet color! I'd go over the bleached spots on the carpet with a wet rag or towel several times to remove any bleach remaining in the fibers. Then I'd mix about a tablespoon of the hair color with about 2 tablespoons of water and dab it on the bleached spots. If the color is too light add more hair color to the water mixture and go over it again. Remember while it is wet it will look a little darker than when it is dry, so try to allow for that and don't throw the leftover color away until you are satisified with the results. I think the haircolor will run from $3 to $7 at WalMart. That's a pretty cheap fix when you consider the alternatives! If you try this, let me know if you were satisfied with the results or not. I know this is what I would try if I were in your shoes! (Thank goodness my bathroom carpet is scheduled for replacement... until then I have a new throw rug! (11/17/2004)
Touching Up Bleach Stains On Carpet
I bought liquid Rit as near the carpet color as possible and used a Q-tip to gently brush back and forth across the fibers until the color matched the carpet. (11/17/2004)

By wallflower
Touching Up Bleach Stains On Carpet
What about saturating it with brewed tea? It might work depending on the color of your carpet. Good luck to you. (11/17/2004)

By Jane
Touching Up Bleach Stains On Carpet
Not tried this but I do not see why it would not work... Since it is tan you could lightly blot a tea bag in the bleach spots until the spot is "stained" the right color. (11/17/2004)

By sarah_bellum
Touching Up Bleach Stains On Carpet
First, do you have an inconspicuous spot of carpet you can experiment with? A scrap would be great. What you are going to do is experiment with redying the carpet. FIrst bleach out the color on your test spot. Then blot out the bleach with fresh water and a towel. let it dry. Make sure it matches the original spot. Make up several test spots. Do all of the above PLUS get a good color match of fabric pen from a fabric store. To get a good match, take the scrap, otherwise, pluck or cut several strands and tape them to a card. A second idea, if the area is very small involving only a couple of strands: remove them and replace them with relocated strands, You can glue them to the carpet with fabric glue. Depending on how long they are you might even be able to tuck them in. Good luck. The final solution is to put something (like a chair) over the top of it! (11/17/2004)
By sicl
Touching Up Bleach Stains On Carpet
With all the markers available in so many colors,even washable ones( in case it doesn't work). It might be that you'll find one the right color for your carpet. Start with a lighter one and if needed a darker one. I have used tea to dye my new white bra's & underwear sets when I couldn't find the "fleshtones" I like. Good Luck (11/18/2004)

By Great granny Vi
Touching Up Bleach Stains On Carpet
If the bleach stains are on a carpet with a pile, check to see if the beach affected only the tips of the carpet. If so, take a cuticle scissor and just snip the tips of the fibers. If it has saturated the fiber or if the carpet is a berber or other type of flat carpet you could also just have a carpet installer cookie cut out those pieces and replace with pieces from either a closet or a spot that will not be seen such as under a piece of furniture that will not be moved. DO NOT UNDER ANY CIRCUMSTANCES ATTEMPT TO SPOT DYE WITH RIT DYE, YOU WILL ONLY CAUSE MORE DAMAGE. (11/20/2004)
By Susan
Touching Up Bleach Stains On Carpet
I read many years ago that bleach does not actually take out color it just changes it. The article suggested talking to a reliable dry cleaner who would know how to use sodium bisulfate that would return the original color. I just "googled" where to find this chemical. It's a product used in canning to retain the color of the fruit or food being canned. (08/28/2005)

By linda
Bleach Stain on Carpet
I cannot imagine trying to "dye" the carpet back to it's original color without it looking like it was dyed. I have had both bleach discolorations and cigarette burns on my carpeting in houses we had purchased. Using an exacto knife, cut out the damaged section and replace with an undamaged section cut out from a closet that no one will see. You can buy carpet seaming tape and using a press cloth and your iron, seam the new "patch" into the carpet and it will look like new. Make sure that the new "patch" of carpet fits perfectly in the one you cut out.
For tiny damaged spot on a pile carpet, I have lifted out fibers from the damaged part of the carpet with tweezers and replaced the fibers with un-damaged ones from a closet section of carpeting. Used instant bonding glue ("crazy glue") to set in place. Works beautifully if you are patient and methodical in setting in these fibers. (02/08/2006)

By bobmarbj
Bleach Stain on Carpet
This happened to me. I thought I was using a spray bottle with spot remover in it but it was bleach. Husband changed the bottle without marking it. Any way, I callled a carpet cleaner and they came over and dyed the area [not very large]. To this day, I don't know where the spot was. My carpet was a very very light beige. Good luck. (02/08/2006)

By Karifl
Bleach Stain on Carpet
If all else fails, have you ever considered buying an area rug to cover the spot? Or maybe this would be a good time to rearrange your furniture. (02/08/2006)
By sewingmamma
Bleach Stain on Carpet
My sister had bleach leak from a bottle all the way across her living room when she carried groceries into her house. She contacted her home owners insurance and they replaced the entire living room carpet for her. Check it out. (02/08/2006)

By Juanita
Bleach Stain on Carpet
The best thing for bleach stains is a pro cleaner. One that is trust worthy and charges flat rates. If you are in the Georgia area ( Metro Atlanta ) I can tell you a company that has totally removed bleach stains for me. Its a small company but does great work! I sell homes and they removed bleach stains. We didn't need an area rug or move furniture. If the carpet is really old they do great dye jobs too! Boy they have helped my houses sell. (02/23/2006)

By D.
Bleach Stain on Carpet
I have bleach stains on my tan carpet any idea how to match them to the light tan? (03/16/2006)

By Jodie
Bleach Stain on Carpet
Of course bleach removes the colors completely and yes it can be fixed. Get some RIT dye and redye the spot. This is how a professional will do it. It takes a little of an artistic touch to get the color right but works fine. (04/17/2006)

By Tyler
Bleach Stain on Carpet
We used all purpose cleaner with bleach on our carpet instead of spot remover and ended up with 6 hamburger-size yellow spots. After reading the replies on your website, we tried the colored marker idea - WOW - The Sharpie (Metallic Silver) marker worked wonders on our dove gray carpet. We just happen to have one in the house. It's permanent and non-toxic. Just make sure you take it slow and brush criss-across the pile of the carpet lightly, and make sure you have enough light so you can see how the color is blending. (04/30/2006)

By Katy
Bleach Stain on Carpet
I have the solution! I did this today. My carpet is very light tan, and I was crazy enough to clean a spot with Clorox clean-up! I went to a local car parts store and bought upholstry/carpet spray paint. They have every color for stains on car carpet!! It was under $10, and dried perfectly!! There are solutions for those moments in our life when we momentarily make bad judgments! (05/02/2006)

By T.Hendricks
Bleach Stain Carpet Repair
Look up this web site. They can help you to get a perfect match. The kits are mailed to you.
www.bleachstain.com (05/18/2006)

By Tracy Davis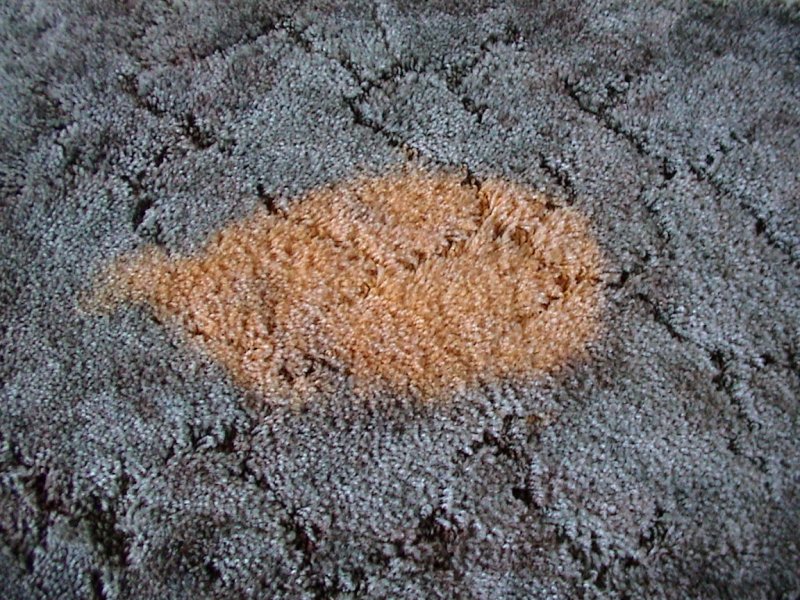 Bleach Stain on Carpet
For beige or tan carpet try "dying" it with tea--adjust til you get the color you want. (05/28/2006)

By call4cathy