Blue Corn Tortillas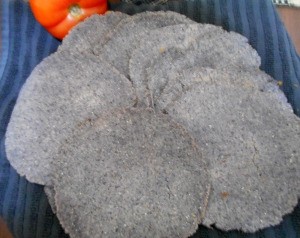 You don't have to have a tortilla press to enjoy fresh, homemade corn tortillas. They keep for a week when refrigerated. To reheat, just put them over a medium flame on the skillet, cooking 20-30 seconds per side.
Total Time: 50 min
Yield: 12-16
Source: Recipe on back of the masa bag. :)
Ingredients:
2 cups instant masa (Mazeca Azul)
1/2 tsp salt
1 1/4 cup hot water + a tablespoon extra as needed
Steps:
A makeshift tortilla press: Cut the zipper off a quart-size freezer bag. Split the sides below the zipper but leave the bottom crease intact. This will help prevent the plastic from shifting as you make the tortillas and makes storage easier if you want to wash and reuse it. When ready, simply place the dough in the center, between the plastic sheets, and press with something sturdy and round, like a pie plate.
Combine the masa and salt, then add hot water. The dough should feel like playdough. If it is a little dry, add the extra tablespoon of water.
Pinch off small balls of dough as you go along. Keep the rest of the dough moist by covering with plastic wrap or a damp cloth.
Press the tortillas, one at a time.
Peel one side of the wrapping off at a time, gently flipping the tortilla onto the skillet. Cook each side over medium heat for 30-45 seconds.
Stack the hot tortillas onto a damp cloth. Wrap up with the cloth over the stack as each tortilla cooks. This will trap in moisture that makes the tortillas pliable and soft. Every once in a while, flip and shuffle the stack to prevent the bottom tortillas from getting soggy.
Let cool halfway and then place into a storage bag. As they finish cooling in the bag, I dab away excess moisture buildup on the bag with a dry towel. This helps them keep longer.
Enjoy! These are great with traditional fare. I also like warmed tortillas with hummus. :)
Add your voice! Click below to comment. ThriftyFun is powered by your wisdom!
Related Content