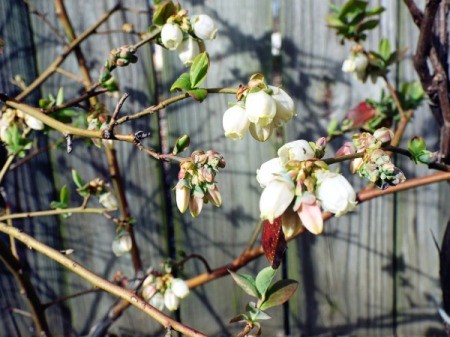 Photo Description
I barely remember reading a little quip years ago. It mentioned an American ambassador who was visiting Africa. He was taken to a remote village and introduced to the tribal chief. After the introductions, the ambassador said to the chief, 'I am just tickled to death to be here'. The interpreter, never having heard the expression before, struggled a bit and then came up with his best interpretation. He looked at the chief and said, 'I am scratched til I die to be here.
Well, that's just how I feel about this picture. I have tried to grow several varieties of blueberries with only minimal results. I am tickled pink over this little beauty. As of February 20, it is covered with blooms, and soon will be covered with blueberries.
My sister gave the plant to me. As it is out performing all my other blueberry plants, I sure would like to know the name of the variety. Wouldn't you just know, she doesn't remember. That's OK, no sweat. If I want more of these plants, and I definitly do; I don't have to know the variety. I will root cuttings from the gift bush.
I do wish all gardeners were as sticky as I am about knowing the names of the plants they grow. Oh well, I'll survive, and the berries will taste just as good. Yes!

Add your voice! Click below to comment. ThriftyFun is powered by your wisdom!
February 21, 2017
0

found this helpful
Very nice to see your thoughtful gift making you happy!
I am still trying to find the best blueberry bush for Florida but haven't decided yet.
Cuttings/seeds are the best - not just saving money for us but making the world go round.
Thanks for reminding me about blueberry bushes.
February 22, 2017
0

found this helpful
You're best bet is to ask your ag agent. He/she will know which varieties do best in your area.
February 24, 2017
0

found this helpful
Thanks for reminding me about seeing my ag agent as I haven't paid them a visit in a while.
I laughed when you mentioned the foods you still do not like - my daughter-in-law dislikes the same 3 items! She will not eat (even soup) if she sees a green pea in it. These may not be in my "favorite" list of foods either but I still occasionally eat them but only when visiting. Why prepare something that does not please us when there is so much to choose from?
I also love blueberries and blackberries so I have to get serious and start planting.
February 24, 2017
0

found this helpful
You really shouldn't have to pay your ag agent a visit. I have never seen the one I have dealt with for the past few years. Emails are really easier for everybody.
While they will answer your questions by phone, an email is better. The ag agent can answer at his convenience and he will have time to research your answer, if necessary.
I like that if explaining something about a plant is difficult, I can just send them a picture. Just yesterday, I sent a picture of a diseased blackberry plant. He identified the disease and told me what to do.
February 26, 2017
0

found this helpful
You are correct in sending emails but my ag agency is less than a mile away and I usually visit with them several times a year. They keep me informed about all the plant "problems" circulating and I can take any plant problem directly to them.
I find that coffee and good conversation about things we love are some of the best life "refreshers".
February 23, 2017
0

found this helpful
That is fantastic! I always have abundant blueberries in my freezer for my daily soy milk, blueberry and banana smoothie, and also want to make a pie soon, anyway, lucky you to have yours flourishing! Linda H. Omaha, N.E
February 24, 2017
0

found this helpful
Thanks, Linda,
They say people's taste changes over time. That's true. All my life, I detested the taste of blueberries. Now, I love 'em. If I didn't like them, I would still eat them for the health benefits. I can't say that about green peas, liver and oysters.
Add your voice! Click below to comment. ThriftyFun is powered by your wisdom!