I see that some of these questions and answers here are quite old and I couldn't find an answer that I need so I am posting my issue.
I have a Singer Scholastic 5523 machine. It is very simple, very basic, and I have this because I don't sew enough to justify buying an expensive machine. I only use it for crafts.
The other day I was sewing a small piece of stretchy fabric and it got caught not only in the feed dog but down inside of the bobbin case. I removed the feed dog plate and cut off as much material as I could. I then unscrewed the two screws that hold the bobbin case holder on and removed the bobbin case. I was able to then take out the fabric and clean all of the threads and lint out.
I put everything back together and tried to sew another piece of fabric, but nothing happened. The bobbin hook isn't grabbing the thread nor is the needle. I tried to troubleshoot this problem for hours even researching it online, but I can't figure it out. I re-threaded the machine a dozen times, put in new thread, made a new bobbin, put in a brand new needle the same size as the one that was there and still nothing.
I have the feed plate off so that I can watch the bobbin hook mechanism go around and the needle goes up and down, but the bobbin thread just sits there doing nothing. Nothing is grabbing the thread. I know I have the bobbin in correctly.
Even though I have had this machine for about three years I have hardly used it at all so it's like brand new. There shouldn't be an issue with it. The machine cost less than $100.00 and I know that if I take it to a repair shop I will be charged at least $80.00 just to have it looked at so having it repaired is silly. I know that this problem is something simple, but I can't figure it out.
The little metal bobbin case holder with two screws lays on the bobbin case to prevent it from lifting out of the machine and I've even tried loosening the screws a bit thinking that it was too tight. It isn't. It only fits one way.
There is nothing on Youtube about this issue and I have even gone into other sewing forums looking for an answer, but there isn't one. If anyone knows what the problem could be please let me know.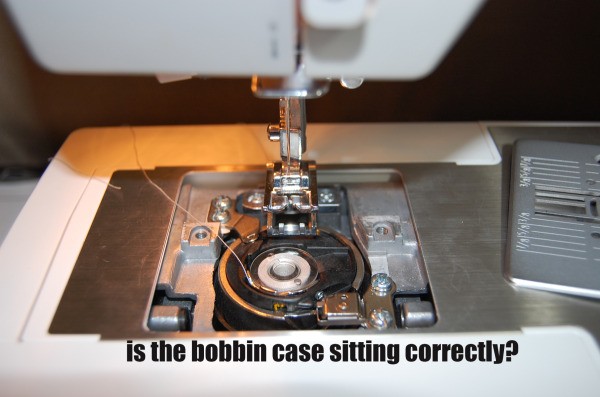 By Sandie J. from Orlando, FL