Boiling Eggs to Make Deviled Eggs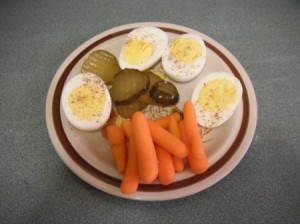 I use the bottom of my 58 year old double boiler for boiling eggs. During the first year of our marriage, I boiled some eggs in the top portion of the double boiler. Best I can remember, I set the pot on the eye and turned it on high. The eggs boiled alright but I think I must have forgotten them because when I went back in the kitchen, the bottom of the aluminum pot had melted and the eggs were sitting on the eye. It took me a while to learn how to cook.
I love boiled eggs and keep some in the refrigerator to have for breakfast, quick lunch or a snack. I have learned how to peel them so they come out neat. I like to take deviled eggs to covered dish dinners. They are a favorite of many.
Ingredients:
eggs
salt
water
old cooking pot
Steps:
Cover eggs with water. Add a little salt to the water. Bring to a boil, uncovered.
Cut heat back to medium. Set timer for 12 minutes.
Pour off the hot water and cover eggs with cold water and let them cool.
To peel, crack the egg and hold it under the water while peeling. While holding it under the water (use both hands) start at the large round end and break off a small place and let the water get under the membrane. Keep it under the water and gently push the shell off the egg, a little at the time.
Enjoy!
Add your voice! Click below to comment. ThriftyFun is powered by your wisdom!
August 6, 2018
0

found this helpful
there is no better way to boil eggs than pressure cooker.
August 6, 2018
0

found this helpful
I learned the most economical way to boil eggs without the grey bacholerette ring on the yolk from inside an egg carton:
Put the eggs into a pot and almost cover them with water. Cover the pot so that it boils sooner.
When the lid starts hopping it indicates a nice rolling boil underneath.
Turn the burner off and set the timer for 5 - 8 minutes, depending on whether you want your eggs soft or hard.
That's right! NO electricity or gas for that!
When the timer goes off, use the lid as a strainer and pour off the hot water and refill with running cold water for 30 seconds.
Peel the eggs right in the pot, under water.
You save electricity and don't get bachelorette rings.
If you are trying to attract a bachelor, use the other method and make holy eggs (boil all hell out of them).
Add your voice! Click below to comment. ThriftyFun is powered by your wisdom!