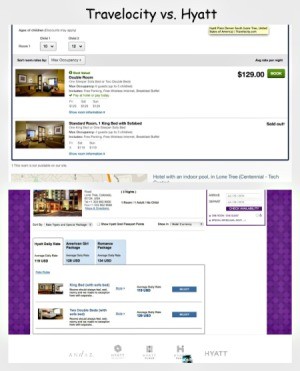 We recently did our annual summer driving trip. I made all of our hotel reservations through Travelocity. On our last night of the trip, the hotel we stayed at had major cleanliness issues.
During my routine check of the mattress for bed bugs, I discovered that the mattress pad was hiding not only dirt but also body hairs on the mattress. There were also used tissues caught between the mattress and the wall. I was completely disgusted and quite shocked as this was a nice hotel. In addition to this I had other complaints, such as only being provided with two towels for a family of 5 and other small issues that were just annoying.
I decided to go to the front desk and let them know my concerns. I was expecting that they would discount our room since it was late and our kids needed to get to sleep. We had already decided that we would use our own blankets and sleep on top of the bedding to avoid the mattress situation.
The staff was shocked and very apologetic. They immediately offered to discount our room only to find out that they couldn't because we had booked it through a third party. Instead they offered us additional bedding and a bunch of snacks from their little store for free. It was the best they could do, since I wasn't up for switching rooms so late at night.
What I have found is that in searching hotels on Travelocity the prices tend to be the same as when you go directly to the hotel's website. I will still likely use Travelocity (or a similar site) to find hotels for our trips, but I will book them directly with the hotel in the future. This way if we encounter a similar situation again, there can be some reasonable resolution.