Breed Description:
Dachshunds come in two sizes, standard and miniature, and three types of coats: smooth-haired, longhaired, and wirehaired. The breed is easily distinguished by its low, long muscular body and disproportionately stubby legs-perfect for moving about in the tunnel or den of a badger. Despite their lapdog status, this breed has stamina and agilityand displays great courage.
Group: Hound group
Purpose of Breed: Hunting badgers
Country of Origin: Germany
Average Size: Standard Dachshunds are 8 inches and weigh 16-32 pounds. Miniature Dachshunds are 6 inches and usually weigh under 11 pounds.
Color(s): Dachshunds can be any colors, except white.
Coat Type: Standard and Miniature Dachshunds have three coat types. The smooth- haired coat is short and shiny, the longhaired coat is of medium length and slightly wavy, andthe wirehaired coat is thick and hard.
Grooming: The longhaired and wirehaired coat varietiesrequire more grooming. In general, Dachshunds are medium shedders, have very little dog odor and need less bathing than most other small breeds. This breed requires standard care for eyes, ears, pads, and nails.
Exercise Needs: Dachshunds do well in apartments as long as they get a moderate amount of daily exercise to prevent obesity. They are naturally suspicious and tend to bark atstrangers.
Temperament: Dachshund's are lively little dogs with an independent nature and playful spirit. They tend to bond deeply with one person, and although they love to play, they often do so by their own sets of rules. This breed is highly intelligent, but their independent nature can make them a bit mischievous and difficult to train. Still, they are loyal and affectionate and make wonderful companions.
Common Ailments: Susceptible to genetic eye disease, disc and skin problems and obesity.
Life Expectancy: Can be long-lived, up to 16 years.
Trivia: Dachshund's were originally bred for hunting badgers. Translated from German, the name means Dachs (badgers), hund (dog).
More Information: Dachshund Club of America, Inc.
Feedback:
RE: Breed Information: Dachshund
Herbie was our son's dog. He was 19 1/2 when he died. Ginger was my baby for a little over 16 years. (04/04/2006)
By Vi Johnson
RE: Breed Information: Dachshund
I currently have two rescued long haired 'tweenies' (larger than minis, smaller than standards.) I just lost a third in January,Miss Molly, at only 10.5 years (progressive heart murmur.) (One photo shows Molly and Doodad, the other is of Osgood. Dachshunds are a lovely breed, very devoted and affectionate. If you areinterested in adopting a rescued dachshund, visit www.drna.org, or www.c2cdr.org. (I have worked with both organizations and they are great.) (04/05/2006)
By Claudia-MD
RE: Breed Information: Dachshund
Here' s the other photo (of Osgood). (04/05/2006)
By Claudia-MD
RE: Breed Information: Dachshund
The Dachshund has a history of back ailments and should not be allowed to jump off of things-even as high as a sofa or chair. They are very daring and will automatically jump, but the long back is weak and is susceptible to an enormous amount of injuries. I have had 11 of them over the past 35 years, wonderful pets, but they do have spinal problems.
No other breed is as wonderful a dog as the Dachshund. The potty training is difficult, but patience is the key, as with any dog. I have gotten several adult Doxies through the Rescue Organizations. These dogs are sometimes very abused and they all need someone to love them. (04/05/2006)
By Sue
RE: Breed Information: Dachshund
I beg to differ with the comment about Dachshund ability to be every color except white. One of my grandmother's Dachshund's was white and she gave birth to about 4 litters of pups.(12/27/2006)
By Jason Moreno
RE: Breed Information: Dachshund
I have a Dachshund, his name is Napoleon. His a wonderful companion to me. He his just over 9 months. He is the first Dachshund in our family of Dachshund that must have his ears flapped backwards, as if he must make sure he hears everything and be included in every conversation. Here we are. (02/21/2007)
By Trudy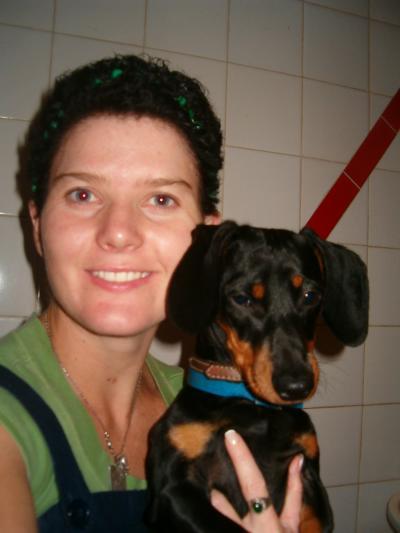 RE: Breed Information: Dachshund
Hi! My name is Edward. I am a very devoted, lovable Dachshund.My owners took me home when I was about 8 wks old. I will be 1 year old on 3/25/2007. I am a mix between the long hair and short hair breeds. My grandmother was a long haired Dachshund so I guess I got the long hair from her. My parents are both short hair. Here's my pic! (02/26/2007)
By Connie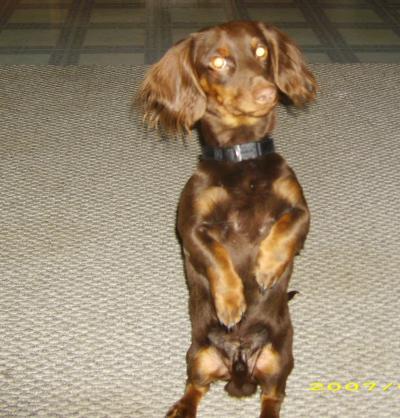 RE: Breed Information: Dachshund
This is a picture of Maisy Belle. She'll be 3 in July and I got her last November from Coast to Coast Dachshund rescue. She isthe 5th doxie I have owned. I absolutely love the breed. My first 3 doxies were smooth, but after owning a long haired doxie, I don't think I'll ever go back! The LH variety are so sweet and lovable, much more affectionate I think. (04/08/2007)
By Sharon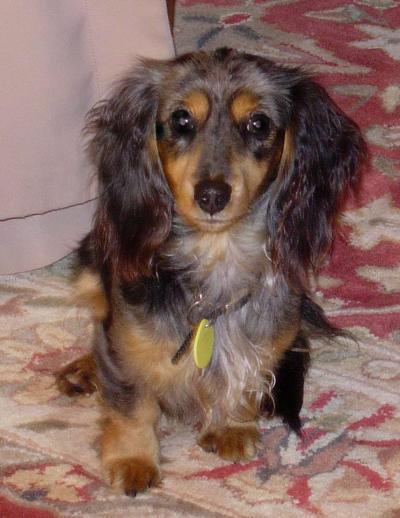 RE: Breed Information: Dachshund
Although this post is old, I thought I would post a picture of our white doxie. Breeding to get this color is very technical, and if not done properly the dogs can be born with huge deformities. This is Dottie, I know, the name isn't very original, but I love my girl. She's two and has two housemates, both black and tan, Harmony age 6, and Mia age 7. When a stranger comes knocking, the hounds are loosed! (04/12/2007)
By Betty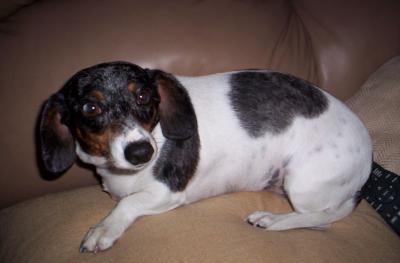 RE: Breed Information: Dachshund
We owned two Dachshunds. One was named Inky and the other is Kuro. In 2001 Inky had back surgery and walked with a limp since. He developed diabetes in 2006 and we had to put him to sleep one day past his 11th birthday. He will be missed greatly.Kuro is still with us and doing OK, but he misses Inky greatly.Inky is the black and tan in the picture. (07/02/2007)
By Inky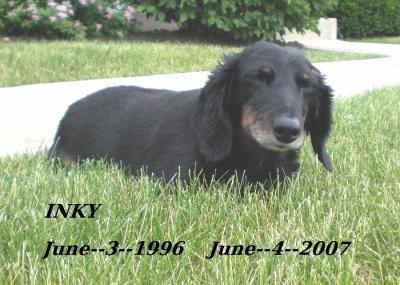 RE: Breed Information: Dachshund
I bought Frankie at the pet shop 1.5 months ago, he is now 5.5 months old. He is quick to learn and knows where to pee and poo in a month's time! He is active and extremely greedy! He is now quite settled with us and I love him so much. He has been the best companion I ever had! (11/03/2007)
By looxie
RE: Breed Information: Dachshund
This is our first dog as a couple, Jamie, and she is a rescued dog. Very sweet and loyal. (11/30/2007)
By rommel pasive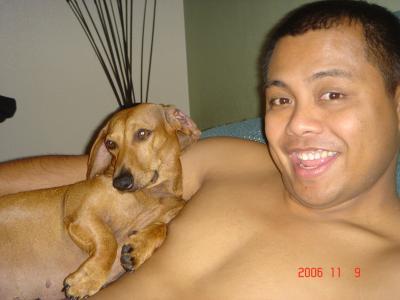 Dachshund
This is my little boy Stavros in his army gear. (01/29/2008)
By Karen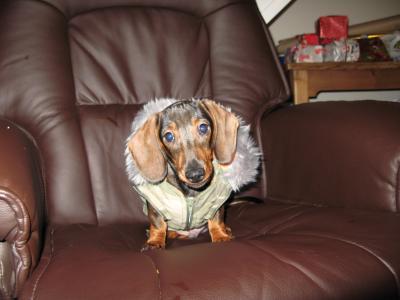 RE: Breed Information: Dachshund
I've had my Dachshund for about a year. She has been such a bright ray of sunshine in my life. She is going on 4 years old and her name is Mochi. I've recently found out that that's somekind of delectable Japanese ice cream treat! Who knew!(01/29/2008)
By Wiccapenguinmochi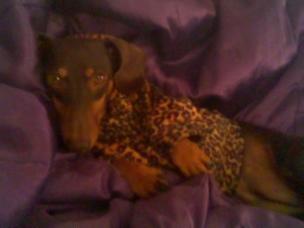 RE: Breed Information: Dachshund
Here is Precious she is 2mos old. Very affectionate and playful, loves to chew and lick especially on me! Potty training is ourbiggest challenge now, but we are getting there. I have a 3 year old and they get along just fine. I fell in love with her theday I got her. Look at that face! (03/17/2008)
By Chris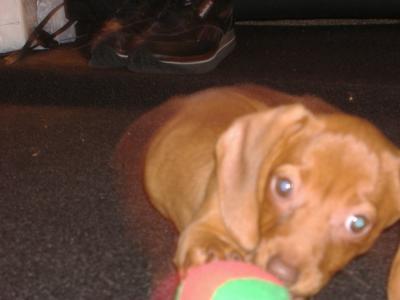 RE: Breed Information: Dachshund
This is Pedro, he is the most loving dog I have ever known. He is a year old and yet to catch on to house training.(03/19/2008)
By Joanna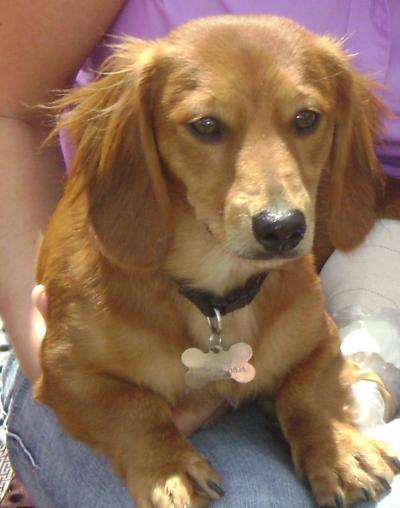 RE: Breed Information: Dachshund
Hi I'm Ginger. Here is Snap my Dachshund. (06/08/2008)
By Ginger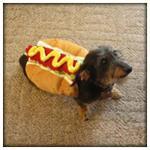 RE: Breed Information: Dachshund
These are my babies Oscar and Wyatt. Oscar is a smooth hair and Wyatt is a long hair. Both are mini and oh so sweet.(07/22/2008)
By Cassie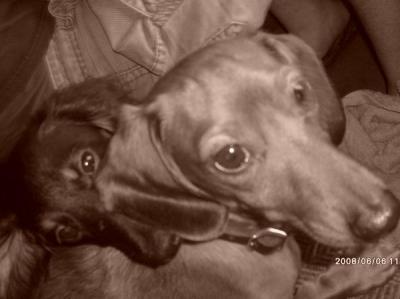 RE: Breed Information: Dachshund
This is my baby, Prissy. The best dachshund in the world. She is my first pet and is the most precious and sweetest baby. She is very possessive of me and I have to say I just love it. There could be no better friend that this type of dog. She is 5, rotten and so sweet! (09/02/2008)
By Kimberly-GA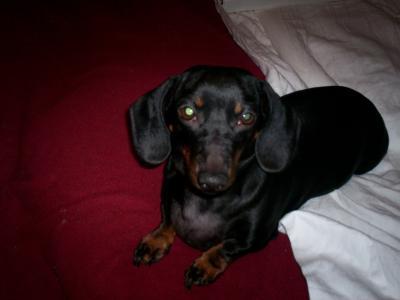 RE: Breed Information: Dachshund
An excellent page of Information. Debbie here in Australia. My Dachshund is black and tan. He is named - Jimmy Peach. He is the most amazing friend a person could ever have. Jimmy is very intelligent, toilet trained himself (quite amazing). He is alsoan extremely good watch dog, making me feel very safe. His has a never ending appetite, so watching his weight is a must. My life would be empty without him. (10/12/2008)
By Debbie P
I Love My Dachshunds
I have two dachshunds a long hair and a short hair, I love them a lot. They are so funny and fun to be with. And they alwayswant to be with us, too. I will never have any other breed. They play together all the time! It's nice having two. (01/03/2009)
By Angie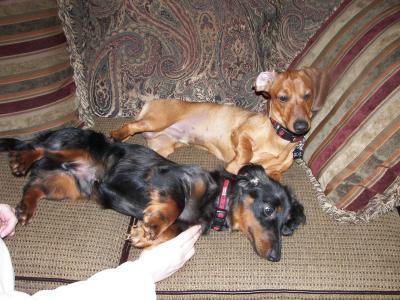 RE: Breed Information: Dachshund
My name is Princess and I am an adorable little sweetheart. A 12little stubborn, but the best there is! (01/09/2009)
By Marie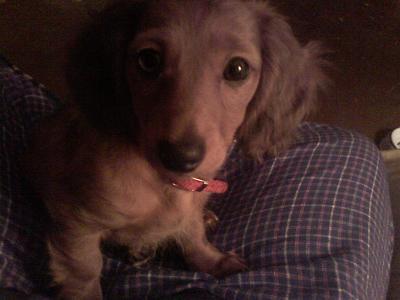 RE: Breed Information: Dachshund
My Mad is the cutest! (02/03/2009)
By Jennifer H.