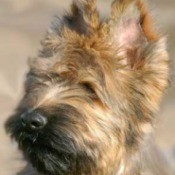 Breed Description:
The Briard is a large, muscular French sheep dog who is referred to by his many admirers as "as heart wrapped in fur." This brave and loyal breed is devoted to his family and makes a wonderful companion for children. They are commonly used today in police, rescue, and guide-dog work.
Group: Herding Group
Purpose of Breed: Guarding and herding stock
Country of Origin: France
Average Size: Averages around 75 pounds and 23-27 inches tall
Color(s): Any solid color except white. Darker colors are generally preferred.
Coat Type: Briards have a coarse outer coat of long, slightly wavy hair that hangs flat on the body and makes a dry, raspy sound between the fingers. It is described as "goat-like" and covers an undercoat of fine hair that is tight on the body.
Grooming: Although its coat is considered "self-cleaning" because it does not retain moisture or mud, the breed's long coat needs at least twice-weekly grooming to maintain attractiveness. When properly groomed, the Briard sheds very little. This breed requires standard care for eyes, ears, pads, and nails. Two dewclaws are always left on each of the hind legs.
Exercise Needs: The Briard is energetic and agile. Whether in the city or country, he can live happily indoors if provided with sufficient daily exercise.
Temperament: Originally bred to make decisions on its own, today's Briard maintains an independent spirit. Early socialization is a must to overcome an instinctive reservation toward strangers. This breed has a great love and devotion for family, but is likely to see them as companions rather than leaders. Highly intelligent, this breed can learn a large number of commands quickly as with an owner that uses patience and positive reinforcement.
Common Ailments: Susceptible to hip dysplasia and bloat.
Life Expectancy: Averages 13-15 years
Trivia: Briars were used by France in the First World War to carry ammunition and other equipment, locate wounded soldiers, and patrol the front lines to warn of surprise attacks.
More Information: Briard Club of America
Photo Credits: Photo of Artie by Marsha Clamp (Snoaire Briards).