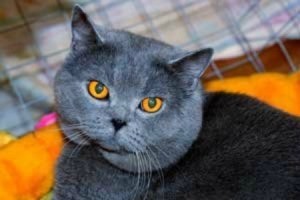 Breed Description:
The most popular short-haired pedigreed cat in Europe, the British Shorthair is a compact, medium-sized cat, that is powerful and well-balanced. They have a broad chest, strong legs and a general roundness to most of their features-a round head, round cheeks, large round eyes, rounded paws and a round tip to their tails. British Shorthairs have a short, dense coat and stand taller than American Shorthairs.
History & Origin: This breed is thought to have originated in Great Britain sometime around the turn of the 20th century when the wealthy Brits started to show pedigreed cats from Oriental countries. These exotic cats were kept alongside and bred with regular domestic cats and over time were selectively bred into Britain's first "native" pedigreed cats.
Character & Temperament: This breed is easy going and amicable. Tolerant and highly adaptable to change, the British Shorthair is playful only as a kitten, and then grows into a dignified, gentle adult who prefers a day of sleeping and lying about to a day of hunting and vigorous exercise. This breed has a quiet, barely audible voice and can seem aloof and disinterested at times. These cats are well suited to busy homes that have less time for breeds needing a lot of companionship.
Color: Many colors, patterns and markings. The best known and most popular is blue.
Coat Type: The British Shorthair's coat is short and dense. Because of its thickness, it does not lie flat against the body and feels firm and crisp to the touch.
Grooming: The breed needs at least a weekly grooming session to keep its coat in good condition. When they are shedding, careful use of a rubber mitt or brush helps remove dead hair. Bathing is not usually necessary unless showing this breed. Claws should be trimmed and ears cleaned only when necessary.
Health Considerations: This breed is generally hardy and tends to have few breed-specific health problems.
Trivia: British Shorthairs have an average of 4 kittens per litter and take up to 5 years to reach their full maturity.