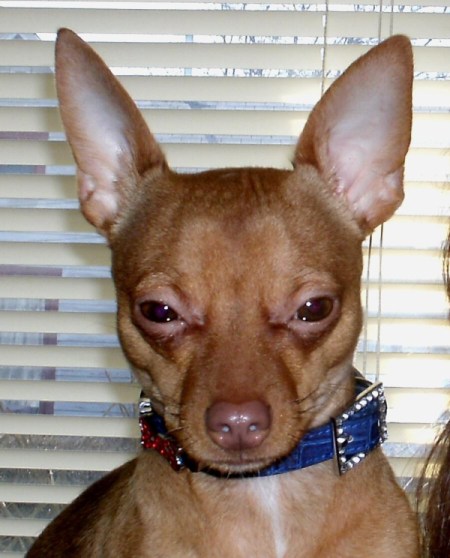 Your Pet's Age
1 year, 7 months
Your Pet's Breed
Chihuahua
How and when did you get your pet?
I rescued Buddy on December 1, 2012. He was a birthday gift from myself, to myself. I use the term rescued because his previous owner was getting ready to take him to an animal shelter, due to the fact that the owner did not have time to take care of a dog. The owner was young man in his 20's. He worked all day and then in the evening, he liked to go out and enjoy the night life. Because of this, Buddy was confined to a small cage for approximately 18 to 20 hours a day. For the first six months of his life, Buddy never got to run freely and play as most puppies do. The only life that he knew was living in a steel cage barely twice the size of him. He was somewhat living in a puppy prison, yet he never committed a crime. His only crime was being one of the most loving and affectionate little dogs you could ever meet. He is not the nasty little ankle biter that most Chihuahuas get stereotyped to be. He loves everyone. Whenever anyone comes to our house to visit the humans that live here, Buddy assumes that they have come to visit him. He makes friends with all who come to visit. He really is a happy little dog.
What does your pet like to do for fun?
Buddy has gone from living alone in a small cage, to a life of freedom. He now has family and friends who love him. He gets to run through the house freely. He has his own bed, although he prefers to sleep with my wife and myself in our bed. He has many toys and is somewhat addicted to rawhide chew toys. It is such an addiction that my wife has actually gone to the store at 11pm, because he did not have one and acts kind of weird when he doesn't have one. For fun, Buddy likes to go camping, fishing and as odd as it may sound, he enjoys watching TV. He enjoyed watching the Puppy Bowl and has a few favorite shows on the Animal Planet.
Do you have anything else to share about your pet?
Buddy is now the proud Papa of six cute little puppies. This is as mentioned in my posting about "Lady aka Ladybug". He is a good dad and helps to take care of the puppies very well.
Buddy is a perfect example that not all Chihuahuas are yappy little ankle biters. Of course, he does bark when he sees someone that he does not know, or when someone knocks on the door. In his mind, he's just doing his job, by protecting his owners and the house that we live in. Otherwise, he brings joy and happiness to our family, friends and all who meet him.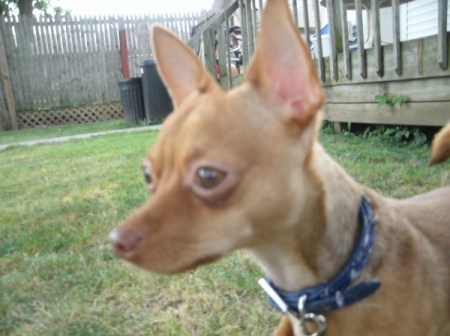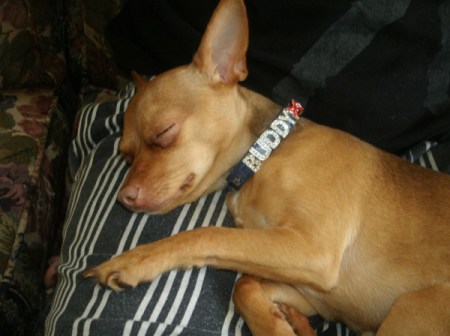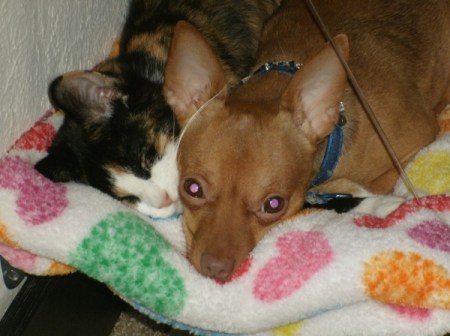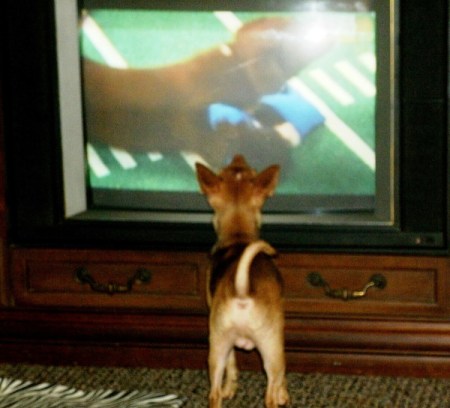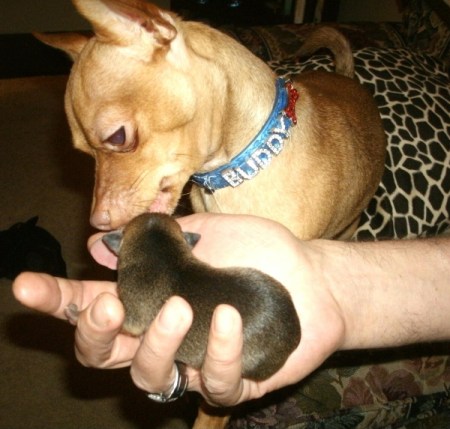 Add your voice! Click below to comment. ThriftyFun is powered by your wisdom!

Pixiedust7
Gold Feedback Medal for All Time! 679 Feedbacks
January 6, 2014
0

found this helpful
I'm so glad you rescued Buddy from the miserable life he had before! I can't imagine why the guy got a dog to begin with, if he was never going to be home to play with him, walk him, etc. It's good to see Buddy enjoying his freedom now! I love the photos, especially Buddy licking his puppy and Buddy snuggling with the cat! Are you going to keep all the puppies?
Now that they've had a family, will you have Lady and Buddy neutered? Just wondering, as the puppy situation could easily get out of control. In any case, Buddy and Lady seem to be perfect for each other and very happy in your home. Best wishes to you, the kitty, and the little Chihuahua family!
Add your voice! Click below to comment. ThriftyFun is powered by your wisdom!