What are the small bugs I see in the box of dry pancake mix? Are they harmful? How can I avoid having this occur again?
By Rachelle from Denver, CO
Answers
August 9, 2009
0

found this helpful
Best Answer
They are probably grain or rice weevils. Usually found in food processing plants. They could've been in the mix when you bought it or something else you had stored near it. They like old flour, rice, and even chocolate. I worked at a candy shop and we had a problem with them. Throw the mix out and check your other goods. Clean where ever you had it stored with bleach water. They will spread. I don't think they are harmful but I wouldn't want to eat anything that bugs have crawled over that I couldn't wash.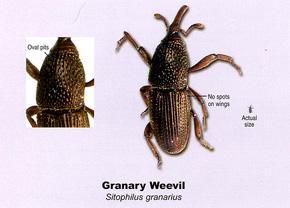 August 10, 2009
0

found this helpful
Best Answer
The way to keep bugs from your flour products: clean clear glass jars. Nothing better. If the flour is suspect and you have a deep freeze place the flour in there for 2 weeks. That will kill any bugs present. Not sure I'd want to use it though. I agree, if it's a new product take it back.
If it's one you've had around the glass jars are the way to go. I get my large jars (they hold a 2.5kg bag of flour) from the Subway near us. The restaurants get their pickles etc in them. They give them to me free for the asking. I also agree that you can make your own mixes. It's so easy and will cost you about 10 cents instead of $2 for the same amount.
August 9, 2009
0

found this helpful
If you recently purchased the box of dry pancake mix return it to the store for a refund and also contact the manufacturer with your complaint.
Start making your own homemade pancake mix to avoid the problem. And keep it tightly wrapped in a plastic ziplock bag. There are a lot of bugs and critters during the summer months.
August 11, 2009
0

found this helpful
I always keep my pancake mix, flour, etc. in the refrigerator. I've had these bugs in grain products & it seems to me they sort of "hatch" in warmer weather.
So when I buy them I place them directly in the fridge and haven't had any problems for years now.
Read More

Answers