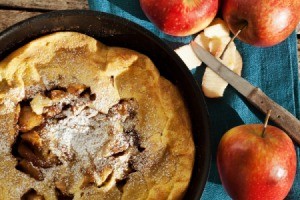 This is a popover type pancake. You bake it in the oven, and it puffs up beautifully and then completely deflates! Don't worry, it's supposed to do that. It leaves a light, fluffy pancake with sides, making it perfect for filling with whatever you like for breakfast. Some people like them just with maple syrup and butter.

You can also fill them with eggs scrambled with cheese and breakfast sausage, or with something sweet, like apples sauteed in butter with a little sugar and cinnamon, or another fruit of your choosing. Then slice them like pie, and everyone has a slice of pancake and filling. Mmm!

This recipe is unique in that it gives the ingredients for different servings. You can bake these in pie tins, cake pans, skillets with high sides (my favorite), or casserole dishes.
Ingredients:
3 - 4 servings (2 quart pan):
1/4 cup butter
3 eggs
3/4 cup milk
3/4 cup flour
4 - 5 servings (3 quart pan):
1/3 cup butter
4 eggs
1 cup milk
1 cup flour
5 - 6 servings (4 quart pan):
1/2 cup butter
5 eggs
1 1/4 cup milk
1 1/4 cups flour
6 - 8 servings (5 quart pan):
1/2 cup butter
6 eggs
1 1/2 cups milk
1 1/2 cups flour
Directions:
Preheat oven to 425 degrees F.
Put the butter in your pan and put in the hot oven. While the butter melts, quickly mix the batter in a blender. Put the eggs in and whirl on high for 1 minute. With motor running, gradually add in the milk, then the flour. Continue mixing for 30 seconds.
Remove the pan from the oven and immediately pour the batter into the hot, melted butter. Return to the oven and bake until puffy and well browned, 20 to 25 minutes.
By Free2B from North Royalton, OH