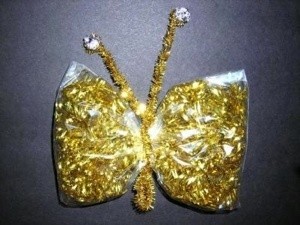 A very simple project kids can make to decorate their rooms.
Approximate Time: 15 - 20 minutes
Supplies:
holiday garland or shredded tissue paper
plastic sandwich bag
cellophane tape
pipe cleaner
aluminum foil
glue
string
Instructions:
Place some holiday garland or shredded tissue paper into a plastic sandwich bag. Fold the top of the bag over and seal it with cellophane tape.
Gather the bag at the center, and wrap the center with a pipe cleaner to form the butterfly body.
Twist the ends of the pipe cleaner together to form the antennae.
Roll the ends of the antennae into small coils. Crumple small pieces of aluminum foil into two small balls and glue the balls to the pipe cleaner coils to finish the antennae.
Attach a piece of string to the butterfly body so you can hang it from the ceiling or from a curtain rod.
By Marie from West Dundee, IL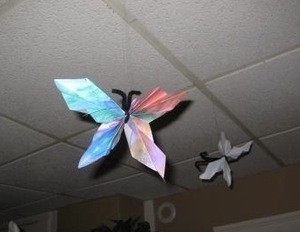 Spring is here! I will be submitting different "buggy" crafts that my daughter and I worked on for her birthday party. This butterfly is made from paper that she painted. It is then fan-folded and attached together with pipe cleaner antennas. Cute and simple!
Approximate Time:
Supplies:
Paper
Paint
Paint brushes
Scissors
Black pipe cleaners
Glue
Instructions:
Paint (or color) a colorful creation on paper. Cover all space on the paper.
Cut out squares of paper, such as 5x5 inches, 9x 9 inches, or whatever size you want. If you use larger paper. you may get several out of one sheet. If you use small paper, you may need to paint more than one piece of paper.
You will need two squares for each butterfly. It looks nice if the bottom square is smaller than the top square.
Fan-fold each square starting at the corner and working diagonally. Once the whole square is fan-folded, fold the strip of paper in half.
Line up the two folded strips of paper for each butterfly so that it makes an "X" and attach together with a black pipe cleaner. Shape the pipe cleaner to look like antenna.
Spead out the fan-folded wings and cut to desired shape (optional). Glue the edges where the two squares meet together. I used clothespins to hold these together until they dried.
Enjoy your beautiful butterflies! I attached a string to ours and hung them from the ceiling.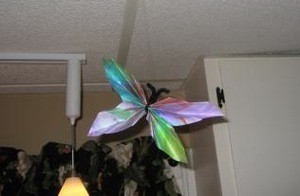 By Jayme from Harrisonburg, VA