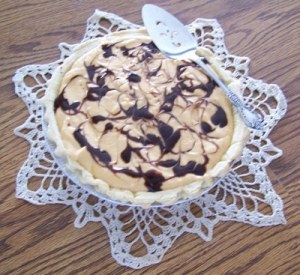 Being on a diet, pie really sounds good. So, rather than making a plain butterscotch pie, I decided to dress it up a bit.
Ingredients:
2 (3 oz.) boxes or one (6 oz.) box sugar free/fat free Jello pudding mix
3 1/2 cups 2 % milk
1/2 cup chopped pecans
light chocolate syrup
1 baked and cooled pie crust made with Canola oil
Pie Crust:
1 1/2 cups flour
1/2 tsp. salt
1 1/2 tsp. sugar
2 Tbsp. milk
1/2 cup canola oil
Directions:
Mix crust ingredients and Crumble the dough evenly into a 9 inch pie plate and then pat into place with your fingers to evenly distribute the dough on the bottom of the pan and up the sides. This dough does not lend itself well to be rolled out. Bake at 375 degrees F for about 18 minutes. You want it to be slghtly golden so watch carefully.
After your crust has cooled, mix one of the small boxes pudding mix as directed on the box, top with the pecans. Mix your second box of pudding being sure not to mix too long. Pour over the pecans. Dot the top with your chocolate and take a toothpick to make swirls. When you are ready to serve, add a small dollop of light Cool Whip.
Source: Crust from Food.com, filling from getting little'er ole' me!
By Ann Winberg from Loup City, NE