For a great savings rate, buy Series I Savings Bonds.

The Pros: You will earn over 5% interest, they are insured by the US Government and you can buy them for as little as $50. You only pay fed tax on the interest.
The Cons: You must hold for a year, and if you cash them in within 5 years you lose 3 months interest. The interest rate changes every May and November.

For more information visit:
By Jon from Reedsburg, WI

Answers:
Buy Savings Bonds For A Great Savings Rate
Our government now limits the amount of savings bonds that we can purchase. Found this website that will answer a lot of people's questions.

http://www.washingtonpost.com/wp-dyn/content/article/2007/12/19/AR2007121902305_pf.html
My husband and I have always invested in U.S. Savings Bonds. Some of us are old enough to remember the advertising posters, "BUY WAR BONDS."
Buying U.S. Savings Bonds financially pays our men and women in uniform. We don't bother risking our life savings in the stock market that's why we buy bonds every year.
(02/18/2009)

By Marjorie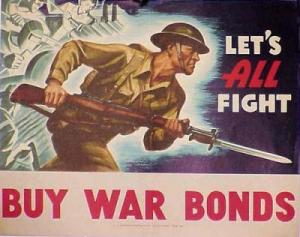 Buy Savings Bonds for a Great Savings Rate
A cautionary note:
It is indeed good to invest a portion of your money in US savings bonds (I do) because they do have good interest terms and are insured but be wise and do not put all of your eggs in one basket ... Invest in other safe investment strategies as well and consider doing some homework about converting a portion of money in to euros, etc, (no, that is not unpatriotic in today's world wide trade market) ...
Even though our bonds and banks are federally insured, if our US current downward spiral continues it is possible that cashing in on those bonds could be held up for several months after maturity of the bond because the money will simply not be available when you might expect, want or need it most ...
Take heed of the current conditions in California where tax payers in that state are receiving California tax over-payment IOU's/roll over credit towards the next tax year rather than an immediate refund check ...
(02/19/2009)

By Ann
Buy Savings Bonds for a Great Savings Rate
Thank you for posting this I think I will get some.
Liz (02/22/2009)

By Liz
Buy Savings Bonds for a Great Savings Rate
Whoa, not so fast on buying I bonds. Interest rates change every 6 months on I bonds. As of Nov 1st, they are paying 3.36% ( a GREAT rate) but the rate announced May 1st was ZERO due to deflation! They are generally a good deal but checkk the rates 1st!
http://www.treasurydirect.gov/indiv/research/indepth/ibonds/res_ibonds_iratesandterms.htm (11/20/2009)

By Pat
Buy Savings Bonds for a Great Savings Rate
Bonds used to be a good deal. No longer is that true. You are better off putting a few bucks in a credit union money market fund. The more you save the higher the interest rate.
The credit union account is even better than my savings bank account which is only at .25%.
The credit union account is also protected the same as the bank. (11/20/2009)

By Marlene