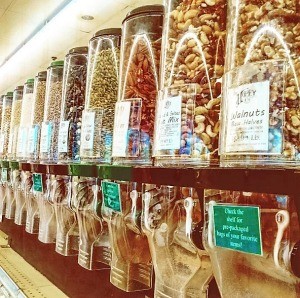 Bulk items are a great way to go in order to save money and eat healthy. These varied items will help you avoid all the excess packaging that most food products come with now again. They tend to be cheaper than packaged, brand name products as well.
Pretty much any grocery chain and many small grocery stores offer bulk items, especially nuts, grains, rice, and candy. These tend to be by the produce section. A great diversity of products is available.
Another advantage to shopping in bulk, except for the candy offerings, is that bulk items tend to be healthier, cleaner, and they tend to have fewer preservatives. Though this is an advantage, it can also present a challenge in that these items will require more time to cook and prepare.