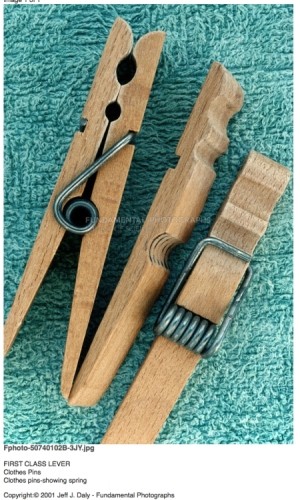 Can anyone tell me where to purchase good quality wooden clothes pins? It's very windy where I live in Canada, so I need heavy duty ones, with tightly wound springs, like the ones shown here:
http://fphoto.photoshelter.com/image/I0000l2lvIG8rwTc.
My husband is in Maine for a few days, but is having trouble finding them. Lee Valley sells clothespins. They're good, but not as heavy duty as I'd like, because the springs aren't tightly wound:
http://www.leevalley.com/en/hardware/page.aspx?p=63682andcat=3,67405andap=1 (but photo doesn't show the coils).
Thanks!
It looks like the links don't show up live, so have attached a screen shot of the first photo.
Answers
April 26, 2012
0

found this helpful
Best Answer
Go online to a store site that sells specifically to the Amish; they usually carry really well-made items.
April 26, 2012
0

found this helpful
Best Answer
If all else fails use the rubber coated metal wire chip bag clips. They're a bit more expensive than regular clothes pins but they're sturdy and will last forever. You can find them at a good price at dollar stores and often at Big Lots.
May 6, 2012
0

found this helpful
Best Answer
I found Lola 850 heavy duty wooden clothespins with 7 coil rust-resistant springs on Amazon, 50 pins per pack. They were out of stock at the moment, but it says they are on order. Lola is a common brand and can probably be found in Home Depot & similar stores, which would avoid shipping fees. Also, Amazon listed it as a "6-pack" for $11.77, which leads me to believe they only sell multiple packs, so this might not be good for you unless you don't mind buying 300 clothespins at once. It is eligible for Amazon Prime, in which case shipping is free.
April 26, 2012
0

found this helpful
I have found that if there is anything you need and a good hardware store doesn't have it they will usually order it. Here I find clothes pins at Big Lots, Freds, and Dollar General. Good Luck
Read More

Answers