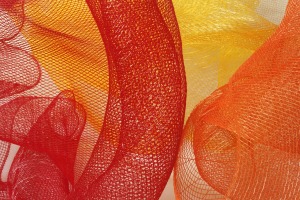 Can you please let me know where I can purchase nylon for crocheted pot scrubbers and also patterns?

Answers

Marjorie
Silver Feedback Medal for All Time! 290 Feedbacks
June 9, 2009
0

found this helpful
Don't buy the tulle it's too soft and delicate and it won't do the job. What you need to buy is the rough feeling nylon netting. Check in the Walmart fabric department or any major fabric store would sell it. Also call a few craft stores to see if they sell it. cakesmix.blogspot.com/.../how-to-crochet-nylon-net-scrubbie...

Joan
Bronze Feedback Medal for All Time! 186 Feedbacks
June 9, 2009
0

found this helpful
Any fabric store should have it. The WalMart stores in my area have it in their fabric departments.

June 11, 2009
0

found this helpful
I have been thinking about making those little net scrubbers for the bath, as I change in summer when I work in the yard a lot. Although I realize these suggestions focus on pot scrubbers, it gives me lots of ideas for body scrubbers too. Thanks.

June 11, 2009
0

found this helpful
Dollar stores always carry tulle already cut in circles about the size of a pie plate. I think people use them to make wedding or baby shower favors.
I don't know how many are in a 1$ pack but it looks to be quite a bit.

June 27, 2009
0

found this helpful
If you don't want to have to cut up strips and then tie them together, you may want to check out www.knitsandbitsbylinda.com/ She sells netting in 3" wide spools for $4.00 each. I've purchased from her and her selection and customer service is great. She carries a lot of colors. I can usually get 3 double sided scrubbies from each spool.

April 6, 2010
0

found this helpful
The scrubbers are not made from Tulle. That is too soft.

August 17, 2011
0

found this helpful
Did you ever figure out the scrubbers pattern? I have a real simple pattern I've been using but cannot sell them now. I've got 100 to sell at $1.00 and cannot get rid of them. I love making them in the winter watching TV.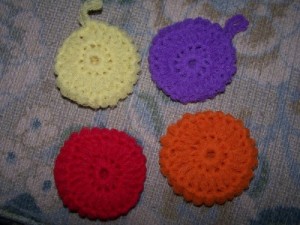 November 5, 2011
0

found this helpful
I buy my netting at Walmart in the fabric section. It's called "net" on the tag. Not tulle. It is coarse. Hobby Lobby also sells it. Hobby Lobby's link is: shop.hobbylobby.com/.../default.aspx?searchTerm=net
A great and easy tutorial for making them is:
noelwright.blogspot.com/.../pattern-for-crochet-pot-scrubber...
They are double sided and nice and thick! Perfect for scrubbing veggies or dishes and more!

August 31, 2016
0

found this helpful
I would like to buy 10 of your scrubbies

February 18, 2018
0

found this helpful
Hello do u send them to. People after they buy them ?

September 13, 2018
0

found this helpful
Tulle is what you want to use if you making face scrubbies. The other is way to harsh. It will peel the skin off of potatoes.

October 9, 2019
0

found this helpful
I buy these from a lady that makes them tight and they last a long time. When I change to a new one I use the old one on my Bird bath a preformed yard pond.
Love these better than any store bought!
Answer

this Question

I am looking for the netting that is used to make scrubbies. I want the stuff that is stiffer than regular netting and not as scratchy. I can get some at Joann's Fabric, but not in the colors I want. Can somebody help? I would like to purchase this wholesale and in 20 yards or more.
By Tawni Gage from Las Vegas, NV
Answer

this Question