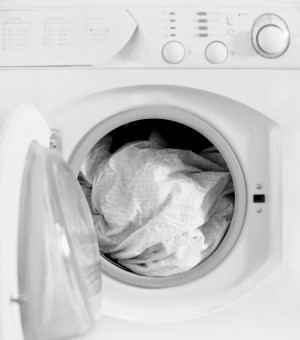 I have bought new sets of washer and dryers twice in my life. I have learned, that they wear out in 4 to 6 years, if you have kids. So, now, I just buy a good set used, and save $650 a set. And they last just as long.
By Glinda from Glendale, KY
Comments
By Grandma Margie (Guest Post)
May 8, 2006
0

found this helpful
I bought my first new washer/dryer set in 1968. I had 4 kids, used cloth diapers and had a blue collar worker husband.......that tranlates to a LOT of laundry! That set kept running beautifully for 20 years! They were Kenmore's from Sears and gave me trouble-free service. I was so grateful to have them. I replaced that set in 1988 with Maytag's. They also have been trouble free. I referred to them the other day as "my new washer and dryer"......and then stopped to laugh as I realized they are actually 18 years old and no longer NEW! Maybe I just got lucky picking the brands I did. I didn't move around a lot so they didn't get bounced around in moving vans and I didn't overload them while using them which is hard on the motors and moving parts.

Kelly
Bronze Feedback Medal for All Time! 233 Feedbacks
May 9, 2006
0

found this helpful
You were right, Kenmore is still the best for home appliances. My grandmother's avacado green set from 1970 FINALLY died, after bearings being replaced and everything! I have a used Maytag/Whirlpool (now the same) but miss the Kenmore I bought a few years back and had to leave....sigh.
But I still have my Kenmore vacuum, six years and sucking strong!

May 9, 2006
0

found this helpful
I agree about Kenmore. I have a set that is about 15 years old and still going strong.

May 10, 2006
0

found this helpful
I don't know what kind of washers and dryers you bought new but I had a washer last about 20 years and a dryer lasted 23 years....only part of the time I had kids but I was still washing lots of stuff even when it was just my hubby & I so don't think it matters too much....maybe you have a big family....we are just a family of 4. I also had Kenmores that lasted so long but Sears does not make theirs...I believe they are Whirlpool.
Ours went through some moves too. Now I have a Sears washer and a GE (from Home Depot) dryer. I expect that I'll have these two appliances for many years to come. I've never known anyone to have there washer and dryer needing replaced that soon! Oh and on my old dryer, my hubby replaced the timer several times. Finally we decided to replace it because to have fixed or even to fix ourselves would cost more than it was worth.