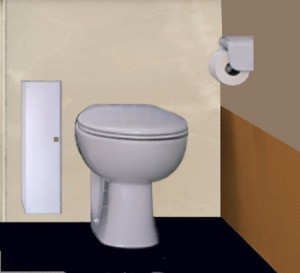 This is more of a suggestion than a tip. I'm no graphics artist, so please forgive my crude and hastily put together picture.
I've seen a lot of tips (and controversy) about storing toilet tissue on ThriftyFun. Some were good, but I don't think any were truly ideal. I think it would be best if the tissue were stored out of sight and certainly not on any device or gadget sitting on the floor.
I am suggesting a tiny, wall mounted enclosure to house the tissue. It should be light weight and easily mounted with only 2-4 screws. There should be enough bottom clearance so that cleaning the floor underneath would be no problem. It should be of a configuration that permits it to be placed within arms length of the commode.
It would be great if someone would consider the marketability of such a product. In the meantime, I can see this small, simple little cabinet for storing four or five rolls of tissue, as a perfect project for the weekend do it yourselfer. And who knows, those of a creative nature might find a tiny item intended for something else, the perfect thing for this purpose.