I slipped in the shower this morning! I fell right over the lip on the edge and smacked down hard on my left side. I pulled the shower curtain right down with me! Not the best way to start off my day to say the least. Anyhow, if anyone could offer me some assistance on stopping this mishap from happening again I'd be forever thankful. Please and thank you.
By edward1956 from Tacoma, WA
Answers
November 14, 2012
0

found this helpful
I typed in the words make bathtub non-slip in Google and looked at some different sites. Out of the ones I looked at, the link to the web site below seems to be the best. It looks like just what you need. I hope this helps so you don't end up hurting yourself!
www.slipperytile.com/make-bathtub-non-slip
November 14, 2012
0

found this helpful
You're a life saver! Yeah, I'll be okay. I just don't want to slip again I'm going to order this stuff ASAP. Thanks!
Ed
November 16, 2012
0

found this helpful
Besides a no slip mat have a handicap bar installed professionally on a wall inside the shower stall nearest where you usually walk in or out of the shower. It might be a little costly but a lot less costly than a trip to the emergency room. If you rent then request one installed from your landlord in writing. As far as I know there are laws that require the landlord to do so upon request; my landlord installed one when I requested one. It's also in their best interest because if you requested one and they didn't do it and you slipped again they would be held legally liable.
November 16, 2012
0

found this helpful
In case you are still wondering, the landlord cannot refuse. It is covered under the American's with Disabilities Act of 1961. Bars and such can be literally lifesavers so yes, do ask.
Also, installing shower doors can fall under the request obligation too. They are safer than curtains, as when you grabbed for something, you might have been able to grab onto a bar and not a curtain.
I too have a lot of trouble in tubs and bathrooms. Here is something I submitted that might help too. Put a five gallon bucket upside down in the tub and set it cushion on it. I had an inflatable donut ring that worked great. Nothing gets hurt when it gets wet, and you can sit and shower. I hope that helps.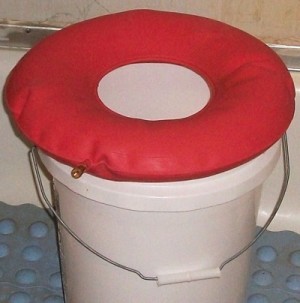 November 16, 2012
0

found this helpful
Sorry to hear about your "shower fall" wet floors are so easy to slip on. Depending on your financial circumstances you can install "handrails" on each side of the recess and certainly replace the curtains with "sliding doors" and you can buy a professionally made secure "non-slip" shower chair.
Under no circumstances would I ever consider sitting on an ordinary house bucket with anything on top of it. They are not skid safe on wet floors. Good luck.
November 19, 2012
0

found this helpful
I went to the Johnny Grip site and it lists quite a few surfaces it CANNOT be used on. You have probably checked that out but I thought I would mention it just in case.
January 6, 2013
1

found this helpful
Sorry about your fall. Where I live we have bars side and end of tub and that is a great help, but to make it even safer I place towel in the bathtub. When I'm ready to get out I hang onto the bars, and with my feet scoot the towel to the end of the tub.
Then I hold on to the the end bar and step out of the tub onto a non skid bath mat. To help even further I place terry cloth slippers beside the mat, insert my feet then I don't slip on the tile.
October 21, 2018
2

found this helpful
Place an old towel on the bathtub floor, the wet towel will not slip...wring it out and clean the shower after then hang on the shower rod to dry.
Answer

this Question

...
How do you make a textured tub non-slip?
By Amanda from MI
Answers
December 2, 2009
1

found this helpful
Making your own non-slip tub mat. Rubberized shelf liner is perfect, or you can purchase strips of rubber matting at a home improvement store. The rubber doesn't have to be thick, since rubber of most any thickness will give a no-slip surface. The rubber can be cut into the general shape of the bottom of the tub, with no further hassle. Good luck.
Answer

this Question

...