May 11, 2010
6

found this helpful
I first came across a recipe for a Jucy Lucy Burger (yes, that's the proper spelling) at Allrecipes and was intrigued that they said it is a Minnesota favorite so decided to research it further. As it turns out it was created at Matt's Bar in South Minneapolis and many variations have evolved across the area.
Here's my spiced up variation of the original. I tried grilling them but that didn't fair well because couldn't control as well as in a skillet and the cheese oozed out ;-)
Be sure to allow the burger patties to slightly cool before biting into them because super hot cheese doesn't feel very good burning the mouth LOL! Oh, and napkins might be in order.
Ingredients:
3/4 lb. ground beef (not too lean or you will not have a juicy burger)
1-1/2 tsp. Worcestershire sauce
1/4 tsp. garlic salt
1/2 tsp. pepper
2 slices American cheese (I tried pepper jack but it just does not melt as well)
2 tsp. diced poblano pepper, or more to taste
Mayonnaise to taste
Cajun Mustard to taste (recipe below)
2 hamburger buns, split and lightly toasted
Directions:
Combine ground beef, Worcestershire sauce, garlic salt, and pepper in a large bowl and mix well. Form four very thin patties from the beef. Each patty should be just slightly larger than a slice of cheese.
Cut each slice of American cheese in to 4 equal pieces and stack the pieces. Place one stack of cheese on two of the ground beef patties, sprinkle 1 teaspoon of the poblano chilies on each, cover with the remaining beef patties and then "tightly" pinch the outer edges together to securely seal the cheese within the meat. (If you don't secure, you might end up with a cheesy volcano)
Heat a heavy bottomed skillet over medium heat and cook burgers on one side until browned, about 4 minutes. (The burgers will puff up due to steam from the melting cheese so don't worry). Turn burgers and gently prick the top of each patty to allow the steam to escape and cook until browned on the outside and no longer pink on the inside, about 4 minutes.
Spread the mayonnaise and Cajun mustard on the toasted buns, add the burger patties and serve.
Cajun Mustard
Ingredients:
4 Tbsp. spicy brown mustard
1 Tbsp finely chopped green onions
1 tsp. minced garlic
1 tsp. hot sauce
1 tsp. honey
Directions:
Stir ingredients together well in a small bowl. Serve immediately or cover and chill until ready to serve. The mustard will stay fresh in the refrigerator for about three days. Makes 1/4 cup
By Deeli from Richland, WA
Comments
May 11, 2010
0

found this helpful
Top Comment
I wish I had one of these burgers right now Deeli! They sound so good. The recipe for them reminds me of one a young airline attendant who lived next door to us about 33 years ago. She'd traveled all over the world and learned all sorts of food tricks everywhere she went. I would often get a recipe on a post card from wherever she was at the time, but she'd beat it by getting home before the post card came in my mail box. She said she did it that way so that she'd never forget to keep that recipe for me, and once it was in the mail, she could safely forget it.
We made these on the outdoor grill, and toasted the buns on the grill as well. We'd made the two thin burgers for each person, then put bleu cheese mixed with chopped green onions in the middle.
Ranch dressing was on the buns and I thought for sure I'd died and gone straight to Heaven. They were so delicious. Now, your recipe has to be tried too. We have a great market close by which specializes in meats, but also has all the vegetables you'd normally see in a more exotic specialty food store, so they always have a great variety of peppers and all sorts of squashes etc that I've never seen before.
What a store like that needs is someone in the department around all the time to answer questions and make introductions of all these different fruits and vegetables. Like they do in a Whole Foods Market. They must have at least 5 different types of "sweet potatoes" for instance. I only know how to prepare 3 of them. :-(
Thanks for sharing your Cajun Style Jucy Lucy Burgers and I will definitely keep a handful of napkins ready. Julia in Boca Raton, FL
May 14, 2010
0

found this helpful
Top Comment
TomatoHanger, I am glad to have brought back good memories of Matt's Bar in the early 60's but also saddened that you had a bad experience in '76 with hoodlums damaging your car :-( Matt's is still in the very same location and going as strong as ever! That's amazing to me because it was born the year I was ;-) (1954) Oh, and you can ask for those fried onions to be added to your Jucy Lucy if you ever visit there again :-) From what I read when researching several sites is that the spelling is 'Jucy Lucy' at Matt's Bar and it's 'Juicy Lucy' at the 5-8 Club nearby ;-) Each bar even has slogans regarding the spellings ;-) LOL!
In any event I hope you give this Cajun variation a try :-) I am attaching a photo of the outside of Matt's for you for memory sake ;-)
Pookarina Julia, your Blue Cheese and green onion filled burgers sound yummy and I am going to give it a try soon! I also think it's so sweet that your neighbor friend always sent you new recipes on postcards during her travels! Very cool! Let me know how you like the Cajun version and I'll let you know how I like your Blue Cheese and onion with Ranch dressing version ;-)
Thank you both for posting and sharing personal stories! :-)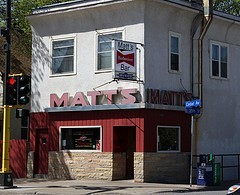 May 11, 2010
0

found this helpful
Hi Deeli, your entry brought me back to 1961 Mpls. We lived at 26th & Cedar Ave S then. So very near where my wife and I ate original "Juicy Lucys" at Matt's Bar, 38th and Cedar Ave S. Back then Matt's only filling was fried onions. I think that was because they were so popular they had to be cooked and served really fast, and, at a small bar grille with not much room either..
Years later I brought my two daughters back for a visit, 1976 I think, in celebration of my elder daughter's graduation from high school in Florida. Recipes certainly do evolve, don't they? The neighborhood had gone downhill though, somebody bashed my van's passenger-side mirror off while we were inside Matt's.