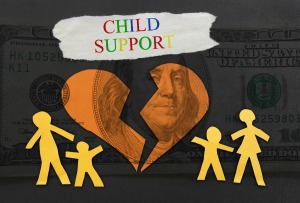 I wanted to know if someone can give me advice. My BF currently pays child support for his kids, but they tell us if we get married because of my income they would make him pay more child support and they would garnish my income tax return.
By Alex from Miami, FL
Answers

September 29, 2010
0

found this helpful
Best Answer
Every state has different laws when it comes to child support. You need to ask an attorney in your state. You can contact your town hall or your state house and ask for an attorney that will answer your question pro bono. Or even ask someone at a law library at the University of Florida. To give you an example of how laws are different in each state. In my my state, if you live across the state line in the adjoining state but work in my state you have to pay state income taxes as well as your wife who does not live or work in my state. This law has been fought all the way to the Supreme Court and has been ruled in favor of the state in which I live.

xintexas
Silver Feedback Medal for All Time! 278 Feedbacks
September 29, 2010
0

found this helpful
Best Answer
Only he has to pay for his children and not anyone else even if your are married. It is based on his wages alone doesn't matter what state you live in. If he fails to pay court appointed child support and files income tax.
Yes it could be garnished and given to his ex. I know this from experience of my ex who thought he could get way with not paying child support.

September 29, 2010
0

found this helpful
Best Answer
In the state of Oregon, my sister got divorced but stayed living with a man because they stated to her that because she took his last name she could be held liable for his child support and they could garnish her wages; she divorced but let few know the real story. They stayed living together.
However, the state of Oregon also did little to collect on my child support, got 1st child support check when daughter was 23 years old and had 2 children of her own!
I signed off on the amount owing, and the state immediately called every day multiple times a day; and my ex simply sent a check to the county for the full amount the state never bothered to collect. By the way, the State office was located in the same county that collected the full amount! So, not dead beat dads but dead beat counties and states folks!

September 30, 2010
0

found this helpful
Best Answer
Don't get married until you talk to a lawyer about the child support issue and you know all the facts. Then decide how you wish to handle the situation. There is no way the father shouldn't pay child support, but I'm not sure if all the states make the new spouse contribute.

September 30, 2010
0

found this helpful
Best Answer
Your income should not count in the child support calculatoins. To be sure though, call your local Child Support Enforcement Office and ask them. You can get the number through information or the local Social Services office.
Also, you can go online and look up your states child support enforcement site and see if the question is answered there.

September 30, 2010
0

found this helpful
Best Answer
Beware! I was told by attorney that my income should not be used. However every time we went to court for more support my income was required yet the mother's new husband was not required. So long story short they used my income at $54,000.00 a year, and the judge had the audacity to say "I feel I need to level the playing field." Not my fault I had an education and well paying career.
So good luck.
Answer

this Question

How is child support calculated in Miami Florida when a parent is not working? Is there a certain amount that is standard?
Answers

Judy
Gold Post Medal for All Time! 677 Posts
November 29, 2018
0

found this helpful
Each case is different. It also depends on the persons assets, such as savings, and other financial obligations

December 1, 2018
0

found this helpful
Florida support laws are set up to serve the best interest of the child and that requires many calculations that involve both parents.
I can tell you that not working is not an excuse the Florida court will accept for not paying child support and usually if support is not paid after a certain period of time the judge will most likely give you free room and board for an extended period of time.
Court ordered support in Florida will take into consideration the income of both parents as well as the amount of time children spend with each parent.
Not working at the present time is something the judge may consider but it will not stop the accumulation of support payments and Florida is very strong on collecting support money (if the other parent files for nonpayment) and the judge will not hesitate to put the offending party in jail. This may not make the support payment for the other parent but there are many government programs set up to help parents with children (but support payments do not cease to accumulate while the person is incarcerated). The judge hopes the prospect of returning to jail will encourage the person to get a job and start making support payments.
I can tell you that I have seen cases where a non-participating parent has had to pay as much as 75% of their income for child support (for several children).
Another thing that many couples do not know is that child support may be figured from the day the divorce is started or taken to court so the other parent is going in "debt" all the time the divorce or child support proceedings continue.
You will have to give a full account of why you are not working.... when did you last work? Why did you leave that job? How are you supporting yourself? Provide detailed records of daily job seeking. Are you disabled?
Just to show you that figuring child support in Florida is not a simple "standard" figure, you can look at all the variables on this web site.
If you are in the process of getting divorced and you have children, you should seek legal advice as you are certainly going to need it.
You can go to family services in Miami and see if they will provide you with free counsel (just Google family services with your zip code).
The web site that Pghgirl provided has excellent information so please read it.

December 2, 2018
0

found this helpful
I would like to add or correct something that was stated in my previous answer.
Should a judge decide to send someone to jail for non-payment of child support they will usually decide if support payments will be stopped temporarily while the person is incarcerated or if it will continue to accumulate.
Also, bear in mind, that I just live in Florida and have nothing to do with the court system (at the present time) so what I state is not a legal statement as different counties also have their own rules about child support (but usually always coincide with the state rules.
You cannot - and should not - take what I have stated as a legal view and that is why you definitely need an attorney to help you through this period in your life.
When it comes to matters that pertain to laws you should never accept the advice of someone on a community site that may or may not know what they are talking about.
Answer

this Question
We are trying to find out what the percentage for child support is for a father to pay for the 1st child once he remarries and has 2 new children (twins)? We have been told the standard is 20%, but once the children were born, it would go down to 16 or 17%.
Read More...