I am looking for any instructions on koolaid or caprisun purse, wallet, belt, checkbook cover or any thing we can make? My daughter has been saving the pouches for a while she also gets the ones from her classmates. So any info would halp. Also, I saw some checkbook covers made out of M&M, Skittles, and diff. candy bags, they were really cute also so if anyone has instructions on those would be so helpful. I can't find anything.

Thank-you,
Kellie from MS
Answers
By Julie. (Guest Post)
April 14, 2005
0

found this helpful
there is a group that has a lot of information on caprisun purses it's
caprisunpurse@yahoogroup.com
If you just type caprisun purses, it should take you there.
Hope this helps.
Julie
April 14, 2005
0

found this helpful
I am a researcher and saw your post. I found a site I think would be helpful for you....Good luck with your project...
April 18, 2005
0

found this helpful
thanks they were very helpful.
By Kim Reynolds (Guest Post)
August 11, 2005
0

found this helpful
I do have a the instructions for making a candy wrapper checkbook cover on my website. I also have other patterns like one for a free koolaid coin purse plus a kool-aid purse pattern. I hope to have the magazine purse instructions available soon. Keep checking!
By Rachel (Guest Post)
November 17, 2005
0

found this helpful
hi i make capri sun purses and sell them all the time. i am coming up with a website, but here's the instructions anyways..
what you need: 8 pouches(makes a reg. size purse)
sewing machine(much faster than hand-sewing!!!)
optional: cute ribbon for strap or eyelash yarn for trimming
1. wash out all the pouches by cutting slits in the very bottom of the pouch without separating the front from the back.
2. line 2 pouches upoverlapping only about three fourths of an inch and sew them together. this is the front, and do the same for the back.
3. cut one of the pouches down to about three fourths of its regular size(you can do this easily by folding one of the corrners evenly and cutting) and sew together with another pouch(DO NOT cut this one! leave it whole!) this is your bottom piece.
4. sew one pouch on each side of your bottom pieces(these are the side pieces)
5. sew the front and the back on to the bottom and sides piece until you get what looks like a rectangular box(with no top or lid!) made ofcapri suns.
6. attach your ribbon to the top sides of the purse. if you do not have a ribbon, you can make your own strap by cutting one of the pouches unto thirds, and sewing them together creating a strap that is about 12 inches long, if you want it longer, simply add more.
By trisha (Guest Post)
January 1, 2006
0

found this helpful
hello,
I just saw that
http://www.Craftbits.com
has candy wrapper templates i think it was on another post earlier?
November 6, 2006
0

found this helpful
Rachel I have been looking and reading for the directions. Yours are so simply said thanks. I do have a question why is my thread always getting caught.
it makes the pouches garbage. I have to clear the bobbin area all the time. I have read the instructions carefully to thread it propely. Also how do I get them flat. This is my first bag. Thanks very much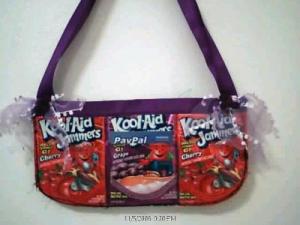 Read More Answers
I'm looking for instructions on how to make chip bag and candy wrapper purses. Can someone please help me?

Sharon Johnson
Answers
By lil m (Guest Post)
September 30, 2005
0

found this helpful
i have recently learned how to use double bubble wrappers and turn them into zig zag designed necklaces. i just wanted to add that. sorry i couldn't explain how to make purses.
By Lauren (Guest Post)
January 2, 2006
0

found this helpful
I wish I could. I am looking for a pattern on one too.
I have already made a cereal one and a jammers purse but I want to make a Lays chip purse too.
By Becky (Guest Post)
June 12, 2006
0

found this helpful
Did anyone ever get the instuctions on this. I would love to know please email me at copper815 (at) cs.com ...thanks
By ojournal (Guest Post)
October 27, 2006
0

found this helpful
Lil m,
Could you share how to make the zig zag designed necklaces. We may be able to use that as a basis for the start of the candy wrapper purses.
Thanks
By gandolfa stegmann. (Guest Post)
March 17, 2007
0

found this helpful
sharon, i, too, have been looking, so far unsuccessfully, for instructions for a potato ship bag purse. have you had any bites?
By Lori (Guest Post)
August 7, 2007
0

found this helpful
I can't find the instructions either. However, I do know how to make the purses. It is the same basic pattern that you would use to weave a basket. You would use long strips of the bags and lay them out flat in a criss cross pattern.
Look up basket weaving and find a basket shaped like the purse you want to make then follow the directions. I promise it will work.
Read More Answers
Have you seen those cute purses made from woven candy bar and potato chip wrappers? I can't find instructions. They look like the old gum wrapper chains, only larger.

Sherry from Upstate, NY
Answers
August 17, 2006
0

found this helpful
I just went and looked them up on ebay and this one is adorable. I remember making the gum wrappers into chains as a kid. I have no idea how to do this. LOL and now I am going to do my research on it by googling.
They are just too cute. I don't know if the picture will show up but here it is....
By fanceefree (Guest Post)
August 18, 2006
0

found this helpful
Please let me know if you find out how to make these adorable purses. How do you make the chains from gum wrappers?
Thanks for any help.
fancee
By Roy B. (Guest Post)
December 5, 2006
0

found this helpful
Yes, I have seen those purses. As a matter of fact I have them for sell. We sell them for $35 plus shipping. they are about 8 inches long x 4 inches and have a strap. Let me know if you want to buy one. Email me at rxbecerr@yahoo.com
Read More Answers
My sister and I used to make chains from gum wrappers when we were little. Does anyone know the folding technique? I can't remember how. I think you can make different crafts from them.
By Holly Kennedy from Golden, CO
Read More Answers
I was wondering if anyone knew where I could get instructions on how to make a candy wrapper bracelet. Instructions with pictures would be greatly appreciated but without pictures would be good too. Thank you.
By kat from Whippanny, NJ
Read More Answers
How do you print your own candy wrappers, to be used as wedding favors?

Taira from Brookline, MA
Answers
November 14, 2006
0

found this helpful
Taira, I use a site called www.alenkasprintables.com to print candy bar wrappers and other things like teabag envelopes and jiffy pop covers. They have a free section or you can pay to get even more choices.
November 14, 2006
0

found this helpful
Taira, I use alenkasprintables site too. There are many cool things to print for free. Yesterday I made up some cute hot chocolate envelopes that I am going to use for little Christmas gifts. A Swiss Miss cocoa mix fits in one.
It's possible you could find some sites with printable candybar wrappers just by putting into search.
Answer

this Question

...
My granddaughter is having a camo theme wedding and wants to have "fake" red shotgun shells in her bouquet, etc. All we need is a wrapper and we will fill it with cotton or paper so there is very little weight to it. Does anyone have any ideas how we can make these? She also may wrap them around a roll of life savers for favors. We can buy candy ones, but they are too pricey for the quantity she needs.
Read More Answers