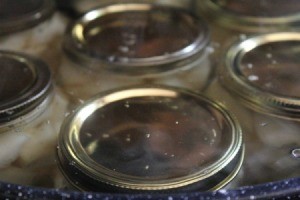 I recently canned tomatoes using the water bath method and realize now that I didn't boil them long enough, only 10 minutes. Can I put them back in the water bath and redo them. I used an old canning book that called for only 10 minutes. I did pack them hot in sterilized jars and and the lids are sealed. Help!
B. from Rutherfordton, NC
Answers
August 1, 2007
1

found this helpful
Best Answer
I've recently been canning tomatoes too, so I can completely understand your concern. I looked in my Ball Blue Book of canning, and I couldn't find anything about reprocessing the food if it wasn't in long enough. It does say this however; If a lid does not seal within 24 hours, the product can be immediately reprocessed. To reprocess the product, remove the lid and reheat the food and/or liquid as recommended by the recipe. Pack food into clean hot jars. Place a new, heated lid on the jar and adjust band. Reprocess the product using the canning method and full length of processing time recommended by the recipe. I don't know if this helps or not, as I know your lids sealed, but the hardest part may be getting the jars reheated. You could always put the tomatoes in new sterile jars and redo them. I did mine yesterday in a water bath for an hour and a half. Good luck!
August 1, 2007
0

found this helpful
Best Answer
Thanks for the feedback. I realized I had goofed after buying a Ball Book and saw the new USDA updates. After Googling this subject I did find out I could take the tomatos out of the jars and boil them for 30 minutes. I ended up doing that with 5 quarts and boiled them down to almost puree for 40 minutes. I made a goulash with them and they were fine. We're still alive, LOL. Thanks
October 9, 2007
0

found this helpful
Best Answer
My grandmother taught me to 'put foods by' when I was very young and I have been doing it for close to 40 years now. I never use a pressure canner. I used to water bath all kinds of veggies, but now most of my veggies go in the freezer because processing destroys most, if not all of the nutritive value. But I do can sauces, relishes, pickles of all kinds, condiments, etc., and even jellies and jams (instead of using wax) in the water bath. My grandmother never killed anybody or made them sick and neither have I. My advice is to start counting your time once the water has come to a full, hard rolling boil. When in doubt, process for 10 minutes longer. Also, once the jars have been removed from the water bath and start to cool listen for the caps to 'pop' when you take them out of the bath--this is the lid sealing down. Also, press the lid as soon as they are cool enough to touch. If it didn't seal, you're going to get a kind of hollow-sounding popping sound-if it sealed, there won't be any sound and the lid will feel solid, then screw the rings down as tight as you can. Anything that didn't seal can be put in the fridge to use ASAP. Foods can be reprocessed. Just reheat, put into clean, sterile jars, make sure the top of the jar mouth is absolutely clean before you add brand new caps, put on the rings, and reprocess in the water bath. Always check your jar before opening and using. If it pops when you press it down--for heavens sake don't use it! No amount of boiling is going to make that jar of food safe for eating!
Answer

this Question
About 4 months ago I canned quarts of halved peaches, but did not add water bath time for our high altitude. Since I didn't realize this until about a week afterwards I was advised to throw it all out, but have been avoiding throwing this work down the drain.
Could I take the peaches out and cook them into jam? Wouldn't cooking the actual fruit kill any bacteria? Looking for any solution to not waste the fruit. Any suggestions?
Answers
December 27, 2018
0

found this helpful
You need to throw them out. The time to cook them longer would have been immediately. Bacteria could have time to grow. Better to be safe than sorry.
December 27, 2018
0

found this helpful
Having gotten sick from a failed canning project, I strongly suggest you toss it.
Safely first! I hate waste too and feel guilty, but food poisoning is very scary!
December 28, 2018
0

found this helpful
I highly recommend you toss all the jars, sad as it is. Here is a link from the government about the dangers of home canning. Botulism is a very real concern.
www.foodsafety.gov/.../home_canning.html
Good luck and be safe.
December 30, 2018
0

found this helpful
The only thing I would suggest is to dig a deep hole (deep enough where an animal will not dig it up) and dump your peaches; bleach/scald your jars; buy new lids and try again next year.
I do not like to waste food either; especially something that I have worked hard to prepare, but this could be a very real safety thing so please, close your eyes and dump the peaches.
I have read that canned peaches is one of the kinds of food that is sometimes difficult to tell if it the food has spoiled so do not take a chance - even with a "taste".
December 31, 2018
0

found this helpful
Sorry. Safety first is hard, but so necessary with food. Take care!!
July 5, 2019
0

found this helpful
I didnt process my tomatoes long enough . They were still quite warm and I put them back in the very warm water . Is this okay . I processed them for 45 mins and some of jars have made the popping sound. Was this safe to do ?
July 5, 2019
0

found this helpful
I didnt process my tomatoes long enough . They were still quite warm and I put them back in the very warm water . Is this okay . I processed them for 45 mins and some of jars have made the popping sound. Was this safe to do ?
August 6, 2019
0

found this helpful
I just did the same with snap beans using a pressure cooker. Only cooked for 10 min at 10 lbs. when I realized that my timing was short the jars were still hot to the touch but had sealed. I put them back into the pressure cooker and reprocessed them
At 10 lbs for 20 minutes. I hope this is okay to do. I would think that bacteria cannot grow in hot jars. I did not take the beans out of the jars or reheat them or use new lids as the beans were still hot to the touch.
Answer

this Question
I made salsa using my sister's recipe. She makes huge batches. She boils her jars for an hour in her roaster. I have an old stock pot for canning and I make small batches.
I boiled mine for an hour. I saw the lids were stressed when it was done, but once cooled I could press them and they moved. What am I doing wrong?
Answers
April 21, 2020
0

found this helpful
It sounds like your lids are old or the sealing compound was faulty. If they were new, call the company. If they were old, toss them. Hopefully you refrigerated the salsa asap.
You can puree and cook down the salsa and freeze it. It will not look pretty, but if you follow guidance for freezer salsa it should taste fine. Freeze in small portions because once defrosted it doesn't last long.
Post back with an update.
April 21, 2020
0

found this helpful
Hope all is not lost!There are a few reasons for this - 1. If the rim is not clean. 2. Make sure there is no food on or around the rim. 3.No spillage, grease residue or anything between lid & seal 4.And last dented or old seals.
April 22, 2020
0

found this helpful
You are doing a canning bath to get your lids to seal. In cases like this it is best to prepare your jars and make sure the top of the jars is completely clean before adding your lid to the jar. When placing the canning lid on the jar make sure the rubber is on the lip of the jar. Screws down the ring and make sure it is as tight as you can get it. Add the jars to your pot and then add the water. If your jars did not seal the first time take them apart and clean the rims really good and try again.
April 27, 2020
0

found this helpful
I hope you were able to salvage your salsa because I know how much work goes into making this and it can so delicious!
I always write a date on my lid packages when I buy them so I can make a decision when I'm ready to can as to whether I should take a chance or buy new ones as it is difficult to 'eyeball' them and know for sure. I also buy from stores that have a large canning section so I know they have a big turnover of goods.
Just in case this ever happens again, I have this information from the USDA site about how to handle salsa that did not seal:
"In the event that some of your jars do not seal properly, you can reprocess them. To do so, remove the band and lid and empty your salsa into a saucepan. Reheat them by bringing them up to a boil, then ladle them into a clean, hot jar as before. Place a new, hot lid on the jar (make sure you wipe the rim off), hand-tighten the band, and process them again for the full fifteen minutes."
I have a recipe that I've used for several years and mine only calls for 15 minutes so I'm curious as to why you are boiling for 1 hour..
This is the site that I use and I thought maybe you might want to review your process just in case you happen to have skipped something in the making/fixing.
Answer

this Question
I am reprocessing my tomatoes because I didn't water bath can them long enough. The tomatoes are still very hot in the 4 jars. Do I need to add more citric acid to the jars or will the original amount be enough?
I have poured all 4 jars together in one pot to reheat again.
Answers
September 11, 2020
0

found this helpful
There should be no need to add more citric acid to the tomatoes if you need to reprocess them again. it is recommended that you open the jars, throw away the lids, dump the content into a pan, and heat again. Now pour the content back into the clean jars and seal with brand new lids. Now go ahead and do the water bath the correct amount of time.
September 11, 2020
0

found this helpful
It is probably too late and this is already done. I am not a believer in reprocessing being safe because I got very sick from doing this.
The lesson I learned is if things don't can right the first time, use what you are able to use (meaning put it in the fridge) and freeze the rest.
Safety first!! If you are in the US and are in doubt about how safe what you did is, contact your local home extension office. If you tell me where you are, I can give you a number to call.
Answer

this Question