Caring for a Blind Kitten?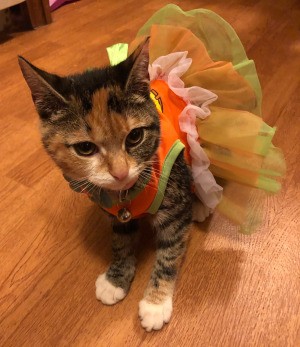 I have a 6 month old kitten that was abandoned at birth. We found out at her 2nd vet visit for vaccinations that she's blind; maybe sees shadows. She is tiny and very slow so there may be some issues there. This is my first cat so I have no other experience to compare her to. She is very behind. She sucked a bottle until she was 4 months and just started using the litter box recently and she's 6 months. She used to want me to hold her and she went everywhere I went.
Now she growls and hisses like she will eat me alive when I pick her up, but although she acts like she's going to bite, she stops when her mouth touches skin. She still hisses, but doesn't bite. She has a path that she knows well and runs through the house chasing lord knows what, doing her psycho kitty growls and hisses. My question is, is this normal? Is she just now being the playful kitten she should have been months ago? Will she outgrow this behavior? Am I being selfish for keeping her? Should I have let the vet do what he suggested when we figured out she was blind? I love her, but fear the growling and hissing is because she is in pain. Would spaying help? She's just made it to 2 pounds and the vet wants her at 5 for spaying. When she's crazy wild I wrap her in her blanket and give her a pacifier (yes she sucks a paci. It was the only way to calm her when we took her bottle away).
I did notice the aggressive like behavior started when my neighbor found 5 abandoned kittens in his yard. I bottle fed them (only 2 survived) and found them homes. It was also around that same time that we weaned her from the bottle. Her crazy cat behavior did not stop when the others left for their new homes.
Add your voice! Click below to answer. ThriftyFun is powered by your wisdom!
October 22, 2019
1

found this helpful
It sounds like she is being over protective of the home and her space. Remember she is blind and feels like other cats are getting in her way. If she does not stop this bvehavior you should try to fix her. Normally you can fix her at 6 months and it is a good idea to do this. Just talk to her and let her know you are there and try and let her smeall you and be with you again. Try to clean the home and get rid of the other cat order in your home. For now I would try not to bring in other cats in your home and let her adjust. I have a friend who has a blind cat and they are much differnt than cats that can see. They only know asmall area in the hme and feel safe in this zone only.
October 22, 2019
1

found this helpful
I am sure the other cats made her feel insecure, but that should have stopped. She could have other issues. Pets can be given medication to help with anxiety and aggression.
October 23, 2019
1

found this helpful
I think you are overthinking the kittens behavior. First of all, I wouldnt advise dressing her up. Strange sensations of clothing on her body could be too stimulating for her nervous system.
She will learn her way around the house and gain confidence from consistency in her routine and her food and bathroom areas. Dont expect her to learn new areas every day. She will gradually grow up and adapt to her situation in due time. Good luck!
October 23, 2019
0

found this helpful
Maybe because Ive always had her wrapped in a blanket in my purse since birth but she actually does good with clothes. I finally found an anxiety vest for dogs small enough for her so that works better than dresses and tees. Thanks though. You guys have need great at calming my fears. Ive been afraid she has a brain tumor or something. Was even going to take her for an MRI but was told shes too small for it.
October 23, 2019
1

found this helpful
She is so cute! Good on you for giving her a chance. I think you will be surprised at how well she adapts. I have a rescue kitty that is partially paralyzed. He has adapted and has a good life. I adjust his environment to make things easy and rewarding for him. He truly enjoys his days and that is the bottom line. I had a number of Vets give me a fishy eyed stare when I would bring him in.
Several of them have adjusted their thinking on this issue. It sounds to me like you pay close attention to how your kitten responds to her environment and you adjust accordingly. That is all you can do. You will always have doubts and questions. We never really know what is coming around the bend. Take it day by day. That will be good enough.
October 23, 2019
0

found this helpful
I neglected to mention that rescues and many Vets will spay your kitten when it reaches 2 lbs. They are concerned about adjusting the anesthesia based on body weight. They are accustomed to doing an anesthesia on a 5 lb. animal. But many many spays have been done in rescues on 2 lb. kittens with good results. It is very commonplace now. Call around and see if you can find a Vet who is comfortable with it.
October 24, 2019
0

found this helpful
You're doing something incredibly compassionate by caring for this kitten. Bless you. The article at pets.thenest.com/raising-blind-cat-9013.html has some good information about raising a blind kitten.
Patience is necessary when raising any kitten or puppy. You'll need to have extra patience with your kitten.
Add your voice! Click below to answer. ThriftyFun is powered by your wisdom!
Advertisement
Published by ThriftyFun.
© 1997-2020 by Cumuli, Inc. All Rights Reserved.
https://www.thriftyfun.com/Caring-for-a-Blind-Kitten-1.html