EllenB
Gold Post Medal for All Time! 858 Posts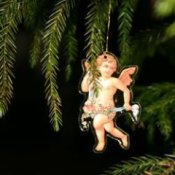 If you're looking for the perfect potted Christmas tree, consider the Norfolk Pine. They have soft, compact needles, a naturally symmetrical shape and they come in a variety of sizes-small enough for a table-top display in the kitchen or hall, or large enough to be the focal point of a large room. Best of all, they are easy to grow, and make a beautiful indoor tree all year long.
Secrets to Success
Growing any plant successfully requires meeting its needs. Generally speaking, Norfolk Pines are easy to grow and are known to be fairly forgiving of less than ideal growing conditions.
Temperature: They will not survive a harsh winter outdoors, but despite the fact that the Norfolk Pine hails from the South Pacific, it isn't terribly picky about temperature. Temperatures on their native Norfolk Island are in the temperate 65-75ºF range (summer) and 43-50ºF (winter), but these pines grow best on the cooler side of the range. Optimum daytime temperatures from spring to early autumn are in the 60-65ºF range, with somewhat cooler temperatures (not below 50ºF) at night. In the winter, they prefer temperatures around 50ºF (never below 40ºF).
Light: These pines are known to be tolerant of low light conditions, but prefer the bright, indirect or filtered light of a southern exposure. They will survive, but not thrive for a few years in low artificial light conditions (incandescent or fluorescent lighting in a home or office setting) provided they receive at least 16 hours of light per day. Because this plant has the tendency to bend toward the light, turn it often to maintain symmetrical growth.
Water: During the active growing period (spring to autumn) pines should be watered regularly to keep soil thoroughly moist but not saturated. In the summer, soil should not be allowed to dry out. In the winter, water sparingly after soil has been allowed to dry out. Many experts recommend using rain water that has been allowed to sit (outgas) for 24 hours when misting or watering Norfolk Pines. This is good advice if you have hard water, as lime will mark the tender needles.
Feeding: These are slow growing evergreens so don't expect to see big growth spurts from your Norfolk Pine. In the wild, they grow up to 200 ft. tall, but when kept as a houseplant, they will reach a maximum height somewhere around 5 ft. Feed them every two to three weeks during the active season with a soluble house plant food, and back off the fertilizer in the winter until new growth appears again in spring.
Humidity: Keeping the humidity levels at optimal levels is probably the most challenging aspect of caring for Norfolk Pines. They are one of the few types of houseplants that actually prefer to be misted with cool water. This becomes especially important in cold climates, where indoor air becomes dry during winter heating. Lack of sufficient humidity will cause the tips of their branches to turn brown and needles to drop off. This is important because once the tips of the branches turn brown, growth will stop from that point. Once the needles fall off, they don't grow back. Mist them regularly with cool water (especially in winter). If the air in your home is dry, try increasing the humidity around your Norfolk Pine by setting the pot in a shallow tray filled with water and pebbles. You can also use an air humidifier or if you keep fish, place it in the room near your aquarium.
Pruning: Any time you prune a Norfolk Pine, keep in mind that you will stop growth at the point of pruning. For this reason, only prune when you need to remove dead branches or brown tips. When left to grow in their natural state, Norfolk Pines will naturally shed some of their lower branches as they grow. Increasing the humidity will slow this process, but expect to see your pine shed a few branches over time.
Repotting: Keeping your pine root bound will restrict its growth and keep it to a manageable size. Still, Norfolk Pines should be repotted every 3-4 years in the spring. Use a loam-based commercial potting soil, or a home-made mix with plenty of drainage.
Propagation: Seeds can be sown in the spring, but Norfolk Pines are difficult to propagate and take a long time to reach a transplantable size. It is best to buy young plants.
Signs of Trouble
Brown tips on the ends of branches and excessive needle loss are probably signaling a lack of moisture. Make sure soil is kept moist, but not saturated and increase humidity around the plant with frequent mists of cool water. Plants that have too much water will exhibit yellow or brown clumps of needles that fall off with the slightest amount of movement. Back off on watering and check to see that the pot has enough drainage.
Norfolk Pine pests include mealy bugs and scale. Symptoms of mealy bugs include small, cotton-like patches or sooty mold. The best way to get rid of a mealy bug infestation is disrupt the bug's reproductive cycle. This can be done by spraying plants with an all natural insecticide over a period of weeks. These are readily available at most garden centers and nurseries.
Scale infestations appear either as red or brown bumps, or cotton-like patches along the stems at leaf and branch nodes. They can be controlled by drying them out with an application of rubbing alcohol or applying a horticultural oil directly onto the insects to suffocate them.
Decorating Norfolk Pines for the Holidays
Keep the decorations small and lightweight. To avoid stressing the plant, keep an eye on soil moisture and make sure to remove any ornaments quickly after the holidays. If your decorating your pine with lights, make sure to use bulbs that are cool. Lights that run hot may dry out and permanently damage tender needles, causing them to turn brown or fall off. Consider lightweight paper ornaments or garlands made from popcorn and dried fruit for a more natural look. When the holidays pass, return to a winter care regime until new growth appears in the spring.
Read More

Comments
11 Questions
Ask a QuestionHere are the questions asked by community members. Read on to see the answers provided by the ThriftyFun community or ask a new question.

My Norfolk pine froze! Can I "bring it back" or is it done for? I'm moving to Colorado next week and want to take it, but not if there's no hope for it.
I know the dry climate there will be a challenge. Please help!
Answers

poehere
Bronze Post Medal for All Time! 105 Posts
November 17, 2019
0

found this helpful
Best Answer
Your tree is already in shock and it is in a very fragile state right now. If you try to dig up this tree and move it anywhere it will die for sure. Plus moving this tree to a cold-weather state is not recommended because this tree needs a warmer climate to survive.

November 25, 2019
0

found this helpful
Best Answer
Number one question;
You do not say if your Norfolk Pine is planted in a pot or if it is planted outside so many suggestions will not relate to your problem.
A Norfolk Pine will not live outside in Colorado so I'm assuming yours in a potted plant.
You also do not say how old or how big your plant is and those details could make a difference.
I believe you should contact your county extension office and ask them about your Norfolk Pine as carrying a dying plant would be a lot of trouble and might just finish dying on the way. They should be able to help you decide if it can be saved.
pickyourown.org/countyextensionagentoffices.htm
I believe that once the limbs turn brown they are usually dying and these do not grow back - only new limbs grow from the top. I have never had needles grow back once they start turning brown although the tree may get new limbs at the top but may loose its nice shape. (I live in Florida - Zone 9.)
Answer

this Question

I purchased a beautiful Norfolk pine that is about 3 ft. tall and it was very soft, as they usually are. I left the tree in the car overnight where temperatures outside can get to 30 degree's Fahrenheit. When I removed the tree early this morning it was cold and stiff.
It is not showing any frost on it nor showing any frostbite damage at this time. What kind of damage will happen and what can I do?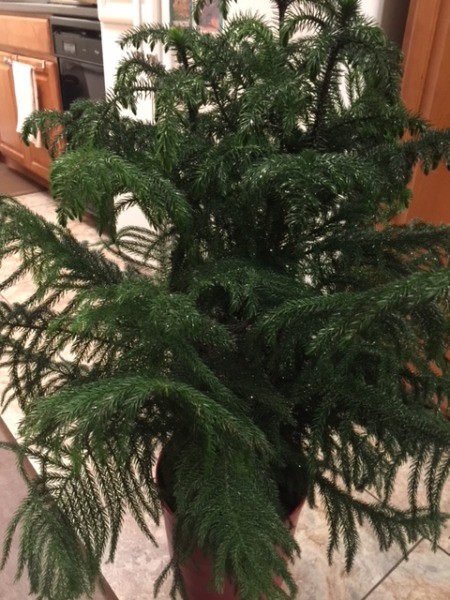 Thanks.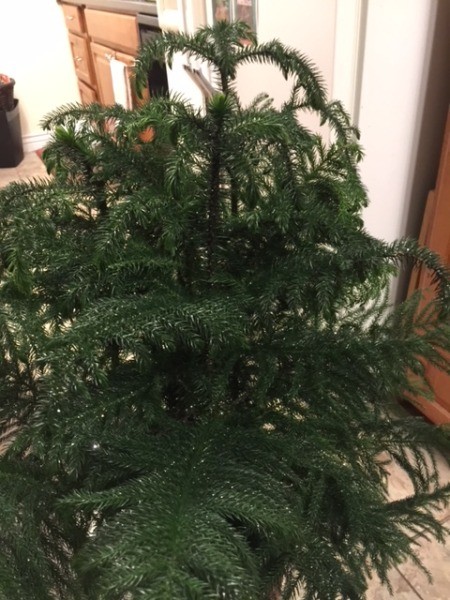 Answers

December 19, 2017
0

found this helpful
Best Answer
Norfolk Pine cannot be outside in cold weather. They are a house plant no matter the name. My motger had one do the same and the garden center told her to keep it inside. It doesnt take heat well either and will go yellow in the sun.
Answer

this Question
My Norfolk pine is getting too tall for the house. Can I pinch it back?
It is an indoor plant that I put out on the deck in the summer.
By Adrien M

Answers

April 3, 2012
0

found this helpful
Have a look at this for more info on caring for a Norfolk pine:

January 1, 2013
2

found this helpful
As far as ensuring proper soil, my indoor Norfolk pine went crazy when watered with leftover diluted coffee straight from the pot. I casually read somewhere that pines like acidity, and coffee is a good source. I thought I would give this tip a try and hope I wouldn't kill it. OMG! My Norfolk took off like it never drank coffee before :-). I diluted one cup of coffee with two cups of water. Since it is winter now, I have only given her this special drink twice.
I have yet to feed it commercial fertilizer [i.e, Miraclegrow], since I got the plant in early autumm, and not sure about fertilizing in the off months. She is doing great, as is, so I am going to wait till Spring to give the first dose.
My pine's home is in the living room window, shielded from direct sunlight by lace curtains. I keep the humidity high by sitting the tree on a dry mound of pebbles surrounded by water. I cool mist every other day. My Norfolk is green and healthy, and one of my favorite houseplants! I urge everyone to give a try at growing a Norfolk pine - it is a very rewarding houseplant!
July 2, 2018
0

found this helpful
Will try the diluted coffee! Nice ! My poor girl is suffering tho. Is 6 ft tall but got too dry by me thenoverwatered by rain
Dropped a quarter of branches and needles. Poor thing needs s boost from coffe or fertilizer or my love. Any ideas how get empty spots to regrow? Help susan
Answer

this Question
I have forced air heat. My pine has a lot of dust on the needles. What is the best way to clean the plant?
By Peg J

Answers

DeBushe
Bronze Feedback Medal for All Time! 179 Feedbacks
April 8, 2013
0

found this helpful
If it is inside, it must be in a pot. Take it outside or put it in your bathtub and spray liberally with water. That's how Mother Nature cleans plants.
April 10, 2017
0

found this helpful
Shower it in bathroom or outside.
Answer

this Question

I have a Norfolk Pine that we bought in spring. It sits in a south window on a table. The pot has drainage. We keep it moist, but not saturated. Lately the branches are starting to curl up and it looks like it has stopped drinking water and does not look heathy.
We planted it in a light peat soil. Can this be why? How do I bring it back to being healthy?
Answers

poehere
Bronze Post Medal for All Time! 105 Posts
November 4, 2017
0

found this helpful
Norfolk Pine:
This seems to be a problem with the size of your pot.
You'll need to re-pot the plant in a larger diameter pot and use new soil.
Your nutrient levels are off in the soil.
This could be caused by salt being too high because of fertilizer residual or evaporation.
Your soil could be in desperate need of nutrients because of constant water leaching.
Repot the plant in a larger pot, buy the right fertilizer for this type of plant, and use new soil.
This should help bring your pine back to life.
Answer

this Question
I have a Norfolk pine that has two trees in one pot. Can these be split when repotting?
By Madonna

Answers

November 11, 2018
0

found this helpful
My Norfolk pine put out three small extra stems that were growing up into the main plant. I separated them from the main plant and repotted them together as they appeared to be attached to each other. One of the three died back but the other two survived. The main plant grew vigorously and now is over three feet tall above the pot. The smaller plant was kept outside on my deck in the shade from July to September here in Michigan and now has doubled in size over the last 5 months since I've separated the plants. Both plants are doing well.
Answer

this Question

I have a Norfolk pine that is now 10 years old and about 10 feet tall. It is a beautiful tree and one that I would hate to lose. It is dropping the needles that appear to be healthy, green, and lush, mainly on the lower limbs. It is putting out a new shoot at the top. It is in a well-lighted area and is watered about once a week soaking it to the bottom. I fertilize it about 4 times a year. Please help me save this tree. Thanks!
Hardiness Zone: 7a
By Kaye Stirsman from Louisville, KY
Answers

December 3, 2010
0

found this helpful
You most likely need to cut back on the watering. either less water the once a week or give it a little longer between watering and never let any water sit in the tray or saucer that is under it. Good luck.
Answer

this Question
What type of fertilizer is recommended for an outdoor Norfolk pine tree and how often should it be applied? The tree is located in Palm
Beach Florida and is about 5 feet now.
By Margot O.
Answer

this Question
My Norfolk pine is very healthy, getting wide, and has long branches. Is it wise to cut back or prune healthy branches?

By RichM

Answer

this Question
Archives
ThriftyFun is one of the longest running frugal living communities on the Internet. These are archives of older discussions.
I bought a Norfolk pine tree back at Christmas time and when I bought it it was below zero and windy. The only time I had it remotely outside in that kind of weather was when I was taking it out of the store and into my house.
Almost immediately the needles started to brown and look like it's all dried up. Some of the branches are still green, but they snap right off once they get bent with any amount of pressure. I really want to keep this tree alive for this Christmas, but I'm starting to think that it's not going to make it. Is there any way that I can keep this tree alive? Please help.

Hardiness Zone: 4a

By melvina from Callaway, MN
Published by ThriftyFun.
© 1997-2023 by Cumuli, Inc. All Rights Reserved.
https://www.thriftyfun.com/Caring-for-a-Norfolk-Pine-1.html