My 9 year old cat has stopped eating. The vet says he sees nothing wrong with her. She will drink some water, but nothing else. Does anyone have a good liquid diet suggestion that I can give her? And I think her problem is constipation and/or a hairball. Does anyone have any suggestions as to how to remedy the constipation and get rid of the hairball?
By Dena Roberts from Winnipeg, Canada

Answers:
Cat Has Stopped Eating
Have you tried hairball medicine from the pet store?? It used to work wonders for my cat, although she never stopped eating. But it definitely helped bring the hairballs up. (10/18/2009)

By Suzanne
Cat Has Stopped Eating
A cat who won't eat and a vet who throws up his hands and says he can't find anything wrong? You need another vet, and fast, before your kitty gets worse. (10/20/2009)

By Kelly
Cat Has Stopped Eating
My girl did that last summer. I'd been told once when she had pneumonia that the reason she wasn't eating was that she couldn't smell her food with her nose all stuffed up. She is 13 now. Last year when she was 12, she stopped eating a couple days and I got really worried. So I figured that since she's old she probably couldn't smell her food as well as she could when younger.

I went and bought tuna in a can and salmon when wet catfood wouldn't work. I then changed the rule she'd had all her life and let her eat people food, namely chicken, we were eating. I mean I don't care about the rules if she's going to waste away. She ate the tuna and salmon and loves chicken.

Then, I also had to change her food to a more expensive better tasting food than the cheap kind. Hey, they're old and if you love them you can spend a few more bucks to keep them alive. Try all these things. It could also be her teeth which hurt them when they're old so she may need to eat wet food from now on. This is Toonces my darling girl. (10/20/2009)

By Lily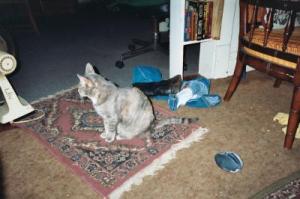 Cat Has Stopped Eating
Try to see if you can get her to eat something like Lily 59 suggests, but I would also take her to another vet like others suggested. Something not right with a vet saying he sees nothing wrong with her even though all she's doing is drinking is water. Please run, don't walk, to another vet even if she does eat a bite or two. (10/20/2009)

By Deeli
Cat Has Stopped Eating
Has the vet (or you) examined her teeth thoroughly? She might have an abscessed tooth or something wrong with her teeth. She could also have her anal sac (?, I think that is what it is called) impacted which the vet has to "unplug" for lack of a better word. Has kidney problems or a urinary tract infection been suggested or spoken of? Does she meow while going to litter box? I totally agree with the other posts. Go to another vet fast. The one who finds nothing wrong must have something wrong with him. (10/20/2009)

By Poca
Cat Has Stopped Eating
Buy a jar of baby food with meat in it to see if she will eat that. As for the hair ball meds, rub it on her paws, she will have to lick them to get it off. (10/21/2009)

By Ann Hubbs
Cat Has Stopped Eating
I just had another thought. Has she been checked for worms? I also don't understand how x-rays could be so expensive. I had to have a cat x-rayed about six years ago and it was only $75.00 and that vet's office was more expensive than most. Maybe you could get in contact with your local ASPCA and ask for suggestions from them, because they have seen it all. (10/21/2009)

By Deeli