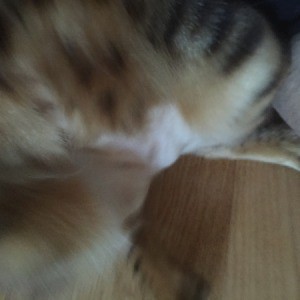 My cat has thinning fur under her paws and belly. The vet recommended using an anti-fungal shampoo which did not help after using for 6-8 months. I thought maybe fleas or mites so I diligently applied flea prevention, but no change after 1 year.
My cat is a Bengal and also used to pee everywhere in our home when we first got her (she had all her fur) and we were able to determine that this was caused by high magnesium low moisture in her food so we switched her to Hills Urinary Car C/D. No more peeing! It has been this way for 8 years. Her fur started thinning around the time we switched her over so we tried wet food. She would not eat it and tried everything.
Recently we tried a new urinary care food (by Purina I believe) and guess what after 2-3 weeks of using it fur started noticibly growing back, but she started peeing everywhere. Now we are back to Hills and her fur is thinning again.
Your help, comments, or suggestions are much appreciated. The pic is of her belly near her genital area.