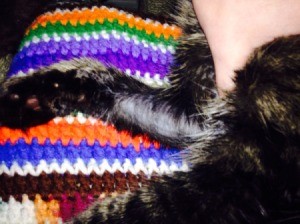 I have a sweet bobtail kitty girl named Bunny Baby. She's been spayed, is an indoor kitty. She is three years young and has a hypothesized diagnosis of potential
food/environmental allergies. At one point shortly after vaccinations and healing from her spaying operation, she developed a UTI. Her feline specialist vet recommended a diet change from grocery store brands of kibble and soft food to Purina One urinary support. And I was told to find a minimal ingredients, grain free wet food.
Her UTI went away, however she began to develop a bump just on the inner rim of her ear and her sister developed an ear infection after the gradual diet change. After another costly trip to the vet I was told to take both kitties off of the PO urinary support and we did the gradual diet switch again to Canaday pure grain free kibble and the same brand canned food along with Natural Balance and Pride by Instincts wet food.
As we have two kitties with different pallets. My kitty Bubbles, although tested and treated with prescribed medicine, never fully recovered from what was diagnosed as an allergic or fungal ear infection. Now, my sweet BB is licking the fur off her front legs. Both kittes rub their mouths vigorously on corners. Sometimes it seems too tough, like they are trying to scratch a serious itch. Otherwise they both seem happy and healthy.
My biggest concern about these issues is that the house we currently live in (and are trying to get out of as it has made me sick with allergies and severe sinus infection and headaches, fatigue) has a leaky roof and mold. The porch leaks moldy water on the floor. I groom them daily since the mold water began to drip. I give them the big lick, which is just a vigorous wipe down with a tablespoon of ACV and warm water. I am also putting coconut oil on BB to help with her legs which I have discovered that around the perimeter of the bald spots, is a little dry and scabby.
If anyone has advice besides going back to the vet; who only seems run tests and come to no firm conclusion yet prescribes meds that cost a ton and in the long run, don't even help my babies. I've literally spent thousands trying to get to the bottom of these symptoms the girls experience. Thank you all in advance!