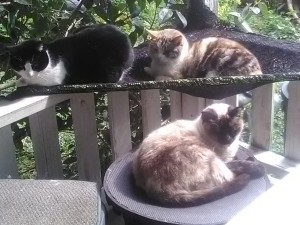 If you build it, they will come to the cat porch sling and mini 'cat'stle.
It's really quite simple. Get a big square piece of heavy lace, like from a curtain panel, to make the sling. I got my piece at a church yard sale thing. I used slightly stretchy thick lace because when it gets rain on it lace has holes to drain the water so it dries quickly. Anyway, fold the lace into a triangle and nail to a broom handle or fancier dowel if you prefer, staple the fabric onto the porch railing attached to the broom. It's gonna take a lot of staples. Some cat will always be on that sling, and some cat will always be either in or on top of the exercise mat 'cat'stle. It's as simple as that. Your cats will love you for it.
Beneath it is the 'cat'stle I made for the cats out of my interlocking exercise mats. :D If I had it to do over, I'd have made it just a little bit bigger for some of the enormous stray males who come to visit with my fixed girls and grab a bite to eat. All you need is a box cutter, hot glue gun, tons of hot glue, and interlocking exercise mats so you don't have to cut out the fancy edging. I didn't save the measurements, but this is easy to reverse engineer. You can do it if I can. Trust me.