We have carpet stains due to one of our cats throwing up. I have tried nearly every "home remedy" and product on the market, to no avail. The stains appear to go away, but come back within a few days. I would like to avoid replacing expensive Berber carpeting!
Steph from Eastern Iowa
Answers:
Cat Throw-Up on Carpet
I know you said you tried everything, but have you tried Nature's Miracle, or Simple Solution? I have had really good luck with it when my kids threw up and dog pooped on the carpet. You can usually get it at a pet store.
I hope that helps.(12/30/2005)

By Raette
Cat Throw-Up on Carpet
What you use is not as important as what you said about the spot coming back in a few days. In the industry we call this re-soiling. You basically have left a residue in the carpet causing new dirt to "stick" to the area. Rinse with plenty of clear water and vac out with a shop vac or a carpet extractor. You may have to repeat this clear rinse method a few times to get all the residue out. Adding some white vinegar will help if you don't mind the smell.
(12/30/2005)

By Laura
Cat Throw-Up on Carpet
You are probably going to have to hire a professional carpet cleaning company to come and clean the spot for you if you have any hope of removing it permanently. (12/30/2005)

By Robin
Cat Throw-Up on Carpet
I try to get the cat spit up ASAP. I pick it up in paper toweling. I try to lift it up rather than rub.. which results in grinding it into the nap of the carpeting. Then, I get a rag which I have wet with cold water. I dont use any soap or detergent. I wet the area with the cold water and mop it up with a dry rag. I usually only need to do this once, but if you cant get it all out the first time, you may need to repeat this step. Don't use a foam carpet cleaner because it will attract dirt from your shoes and the mark will show again. Hope this works for you... (12/31/2005)
By Carol
Cat Throw-Up on Carpet
Ohhh, the dreaded cat vomit. My cats eat just dry food. Some of the brands leave worse stains. You can watch which ones are less trouble to clean up. By the way, we are happy to find the vomit dried up. It seems less staining and MUCH less disgusting to clean up. (12/31/2005)

By Iris.
Cat Throw-Up on Carpet
I use Oxy cleaner like you add to laundry. It is enzymatic and breaks up organic materials. I put it in a squirt bottle with water and squirt it on. Leave it sit for a few minutes and then wipe out with a wet cloth. Doesn't always take it completely out but usually does especially if you get it quickly. (01/01/2006)

By Timmie
Cat Throw-Up on Carpet
Have you tried Folex or Awesome? I have had good luck with both. (01/04/2006)

By suzi_homemaker01
Cat Throw-Up on Carpet
I use Stain Control from the makers of Odoban. I buy mine from Sam's Club, but I expect it is available elsewhere.

First I lift up the solid stuff with damp paper towels. Then I spray the stain lightly with Stain Control and leave it soak in. After a couple of minutes I wipe the stain with more clean wet paper towels, then repeat if necessary. It always works for me. (01/05/2006)

By Susan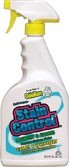 Cat Throw-Up on Carpet
My older cat is ALWAYS throwing up on my carpeting. I feed her a "treat" every night of Friskies Salmon Dinner canned cat food and it is so smelly and impossible to get out of my carpeting. The one product that I have found that works is called "Spot Shot" made by WD-40 Company. I have tried "Resolve" carpet cleaner and a few others and they don't work at all. Try Spot Shot-It really works!
Good luck on your stain to my fellow cat lovers! (07/11/2006)
By Linda from Milwaukee
Cat Throw-Up on Carpet
My cat was vomiting frequently and I thought it had a sensitive stomach. Turns out that he has intestinal lymphoma. The prognosis is not good, they gave him 7-10 months to live. Please take your cat to the vet if it throws up frequently. I feel just awful for not doing something sooner, maybe they could have done more from him. (11/03/2007)

By Robin
Cat Throw-Up on Carpet
I have had my bulimic cat, Lacey for 19 years. I have tried every cat food on the market. She still throws up. ANY food with the color orange seems to be the worst to clean. I have off white carpet. I have tried countless things over the years. AWESOME seems to work the best. I have noticed if the vomit dries, it is easier to come up. Spray with AWESOME, then I use a home shampooer I purchased primarily because of my cat. (05/03/2008)
By Maureen