Cheap Ways to Beat the Heat
Solutions
Share on ThriftyFunThis guide contains the following solutions. Have something to add? Please share your solution!
Kelly Ann Butterbaugh
0

found this helpful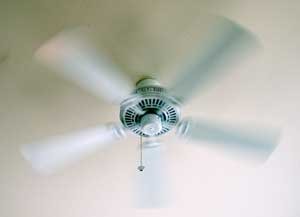 There are plenty of ways to keep cool during the summer months, but how many cost efficient ways are there? Try some ways to cool your temperatures and your budget as well.
Keeping Things in the Dark
Bright sunlight can add several degrees to the temperature of a room. Instead, invest in some room darkening shades. By reducing the flow of sunlight into a room during the peak heat hours of 12-2pm, room heating can be reduced. If you already own lined draperies for the windows, simply pull them shut. You don't need to keep in the dark all day; let the sun shine in during the morning hours and reduce its glow in the afternoon.
Full of Hot Air
Not only do windows let in heat through the light, but they let in the hot air of the day as well. Although an open window allows for fresh air to enter the house as well as a cooling breeze, it can also let in a blast of hot air. Allow windows to be open at night when the air is thinner and cooler. Then, as the day heats up close the windows on the hottest sides of the house, most likely the south and west sides, to block the flow of the hot air.
Water, Water Everywhere
Keeping the body fully hydrated has a plethora of benefits, but one is that will feel cooler. A properly hydrated body can function at its fullest which includes the cooling mechanisms which keep you feeling comfortable. On hot days avoid carbonated drinks, those filled with sugars, and alcohol.
All of these liquids deter the natural cooling process of the body. Instead, load up on water; it's not only good for the body but it's a cheap drink as well!
A. C. Cooling vs. Electric Fan
In the battle over air conditioning and electric fans, the feeling created by air conditioning will win most of the time. It turns a sauna into a refrigerator in no time, allowing us to forget the discomfort of a hot day. However, there is more discomfort that comes with the electric bill associated with air conditioning. The decision about the value of cool air versus high energy bills is a personal one. Below are approximations of KWH per hour used for fans and air conditioners:
room air conditioner 1 KWH per hour
central air conditioner 2 1/2 - 3 1/2 KWH per hour
ceiling fan .18 KWH per hour
window fan .25 KWH per hour
Put it on Ice
If the heat is too much and you need a quick hit of cool salvation, try this free fix. Put a t-shirt in the freezer for a few minutes. Be sure it's dry and clean. Then, remove it from the freezer and slip into cool comfort. It's a short lived thrill, but sometimes it's just what you needed. If you're heading to bed, place your pillow case in the freezer. You'll be cool enough to drift off to sleep before the effect of the freezer wears off.
For a frugal way to beat the heat, go to your local library. Admission free. Hours of perusing your favorite books and magazines. Cost of a library card to take books, videos, CDs, or DVDs home with you free. Take advantage of the resourceful personnel there. They are happy to be of assistance and can give valuable tips on researching. Use the internet for free while there. Bathroom facilities are provided as are drinking fountains.
Did I mention all of the air conditioned comfort for as many hours as you care to stay, all without receiving a bill for it at the end of the month. Some offer lectures while many offer story time for children or puppet shows. All for free. Enjoy. It is also a great way to keep your children occupied and learning during the hot summer months. Also, avoiding the heat means less of the 'crankies'. :)
By Strawberry from Nashville
Beating the Heat Index
It's that time of year again: hot, hot, hot. Just in case you forgot, the heat affects everyone differently. Thousands of people in this country die from extreme heat. More die from heat related deaths than hurricanes, lightning, tornadoes, floods, and earthquakes. Most Americans who die of extreme heat health problems are 50 or older. If you are involved in the care of the elderly, you know older people have their ways and do not always tell the truth. As temperatures rise, seniors are more vulnerable to the heat because their bodies don't cool down as quickly as they once did. Keeping in mind their need for independence, and with today's constantly rising heat and soaring energy prices, they may not always say what you want to hear. Older people may not feel hot when the temperature is high and are less likely to feel thirsty. Set in their ways, they may have grown up in the age of fans, before air-conditioning. Help seniors stay safe this summer. Keep 'em cool Remind them:
Drink plenty of fluids and other nonalcoholic beverages.
Fans do not always adequately cool during intense heat waves. Stay in the air conditioning. Air-Conditioning Works!
Avoid all strenuous activities. Avoid extended periods of sun exposure and walking long distances at midday.
Take cool showers, baths, or sponge baths.
Wear lightweight, light-colored, loose-fitting clothing and hats.
Dehydration is a widespread heat related problem. Indications of dehydration include weakness, headache, muscle cramps, dizziness, confusion and passing out. Heat exhaustion is usually the first serious sign of a serious problem. Signs of simple heat exhaustion include: Heavy or no sweating, muscle cramps, tiredness, weakness, paleness, cold or clammy skin, dizziness, headache, nausea or vomiting and fainting. Heat Exhaustion's greatest problem is that it could lead to Heat Stroke.
Heat Stroke is one problem nobody likes to deal with. Heat stroke can be fatal. A body temperature above 103 degrees, red, hot and dry skin; a fast pulse, headache, dizziness, nausea or vomiting, confusion and passing out are serious symptom's of an Extreme Heat Emergency. Get Medical Attention!
And Remember: The Temp in the car goes up 20 degrees in only 10 minutes.
Source:
United States Environmental Protection Agency
Office of Atmospheric Programs (6207J)
1200 Pennsylvania Avenue NW, Washington, DC 20460
Wear a wet piece of cloth under your bike helmet and a wet bandanna around your neck. I had doubts about biking when it was too warm, but these two pieces helped.
Related Content